Agelyss Hydrating Moisturizer Review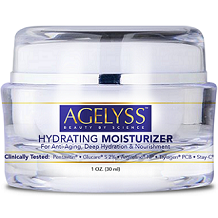 BEST PRODUCT
This anti aging moisturizer is brought to you by Agelyss, a reliable manufacturer that also provides a great range of skincare products that are backed by research. Agelyss Hydrating Moisturizer is one of our favorite anti aging moisturizers out of all the various products in the category that our team has reviewed. The manufacturer of this product promises that it contains a unique formulation of the highest quality ingredients that can offer your skin maximum beneficial long-term hydration. This product claims to boost your skin's elasticity and collagen production, while also preventing collagen from deteriorating. Furthermore, this product also promises to visibly reduce fine lines and wrinkles, encourage skin renewal, deeply nourish and repair your skin's barrier function. This hydrating moisturizer appears to offer numerous effective results that far exceed the promises of most other similar products considering that it claims to not only hydrate your skin but also greatly improve the overall appearance of your skin to encourage a visibly more youthful and more radiant complexion.
In the following full review for Agelyss Hydrating Moisturizer, we examine and explore all the real facts about this product that you need to know. Does this product contain ingredients that are capable of providing effective results? Is the manufacturer confident enough to back their claims with a strong guarantee? In this review, we provide you with all the information about this product to help you make the most informed choice.
Ingredients
This hydrating moisturizer is formulated with ingredients that are third-party tested for quality and it is also a vegan-friendly product that is not tested on animals. Based on various moisturizer reviews that are easily available online, most other similar products only seem to contain at most 2% active ingredients while Agelyss Hydrating Moisturizer contains more than 10% active ingredients. Furthermore, it contains 5 patented ingredients and all the active ingredients in this product are clinically proven to provide effective results. Additionally, it does not contain any artificial fragrances, parabens, hormones or phthalates and it pleasingly safe enough to be suitable for all skin types which is really great.
According to the product's label, this anti aging moisturizer contains some of the following clinically proven active ingredients:
Pentavitin
Trylagen PCB
Argireline NP
Glucocare S 2%
Stay-C 50
Tocopheryl Acetate (Vitamin E)
Prunus Amygdalus Dulcis (Sweet Almond) Oil
Butyrospermum Parkii (Shea) Butter
Pentavitin is a clinically proven patented ingredient which functions as a potent moisturizer that provides deep hydration for skin which can also beneficially reduce skin irritations such as flaking and itching, this ingredient also instantly strengthen your skin's barrier to help prevent moisture loss and keep your skin hydrated and healthy. Trylagen PCB contains peptides and proteins that can beneficially enhance the production of collagen, which will boost your skin's elasticity to promote firmer and younger looking skin. Argireline NP functions as an anti aging peptide to visibly reduce the signs of aging such as fine lines and wrinkles, while also helping to prevent wrinkles by providing effects that are similar to Botox after as little as 30 days of use according to extensive research. Glucocare S 2% is a great patented ingredient to look for in anti aging moisturizing products because it can effectively reduce skin sensitivity while also encouraging the healing of damaged skin and it is also backed by clinical research. Stay-C 50 is a potent and stable form of Vitamin C that functions as an antioxidant to protect skin from free radicals and improve skin tone, it can also increase collagen production to promote firmer skin. Vitamin E can help nourish and soothe your skin while also functioning as a powerful antioxidant. Sweet Almond Oil can maintain healthy skin cells, protect skin from damaging UV radiation and moisturize dry skin. Shea Butter contains vitamins and fatty acids that can effectively hydrate, soften, soothe and protect skin to visibly improve your skin's overall appearance.
Dosage
According to the manufacturer's recommended usage instructions found on this products website page, you should initially cleanse your skin and then apply this product by massaging the cream directly onto your face and neck area. It is also suggested that you should apply this product daily, throughout the day and also at night to ensure that you receive the best results possible. Additionally, you can also use makeup after applying this moisturizer and it is also safe enough to be suitable for all skin types and age groups which is a really great aspect for any moisturizing skin care product. The manufacturer does provide clear and easy to understand instructions for this product which indicates that it is simple enough to use on a regular basis which is very pleasing because there are no concerning possible adverse skin reactions relevant for this product.
Price
You can purchase this hydrating moisturizer directly from the manufacturer's website and one jar will cost you $49. One jar contains 1 oz of moisturizing cream which should last about one month when used as recommended by the manufacturer's application instructions. There are also two very appealing bulk purchase options available that include free shipping and provides surprisingly significant savings for an already reasonably priced product. The manufacturer advertises a 3 pack deal which allows a 53% discount when purchasing three jars for $98. This deal indicates that each jar will then only cost $33, which will save you a total amount of $109. Alternatively, there is a larger 66% discounted advertised for purchasing six jars of this product for $142 to provide a total savings of $272. It is extremely pleasing that the manufacturer provides bulk purchasing deals for this high-quality product because this encourages affordability.
Guarantee
The manufacturer of this skincare product provides a very confident 365-day full money back guarantee for this anti aging moisturizer to allow customers a risk-free purchase. The clear details found on the Agelyss website for this guarantee explain that you may return a product for a full refund if you are not completely happy with it for any reason and you will be fully refunded. Additionally, you may return a product for a full refund even if it has been opened and used. This is an extremely strong money back guarantee because it not only ensures the product's quality by allowing opened products to be refunded but it also fully covers the manufacturers claimed effective results Agelyss Hydrating Moisturizer by also allowing refunds even for used products.
There are numerous customer reviews available on the Agelyss website that give this product an average rating of 5 stars. There appears to be not even one negative customer reviews available and pleasingly, the vast majority of these customer reviews compliment almost every aspect of this product and explain that it really is an effective and high-quality hydrating moisturizer. Most customers explain that this product provides visibly younger looking skin by reducing fine lines and wrinkles, reducing pore size and encouraging smoother, softer skin.
Conclusion of Our Agelyss Hydrating Moisturizer Review
Attempting to decide which moisturizing product is right for you can be a daunting task when considering that most products in this category all seem to promise the same effective results of healthier and younger looking skin. Unfortunately, research shows that most other similar products do not contain nearly enough ingredients to be capable of effectively hydrating skin while this product is proven to effectively hydrate and also provide numerous additional benefits for your skin. As one of the best hydrating moisturizer products that we have analyzed, Agelyss Hydrating Moisturizer is a superior product for various reasons. The manufacturer provides a very confident 365-day money back guarantee that fully backs the claimed effective results of this moisturizer. Furthermore, it is reasonably priced for a quality hydrating moisturizer and the manufacturer also offers very significant discounts on bulk purchasing deals that can save you as much as 66% in total. This product contains 5 clinically proven patented ingredients of the highest quality and it is also suitable for all skin types which is great.
When reading various moisturizer reviews available online, Agelyss Hydrating Moisturizer contains by far the most effective ingredients that are backed by clinical research and it also seems to far exceed the claims of most other hydrating moisturizers. A large number of extremely positive customer reviews available on the manufacturer's website and online for this product prove that it really is an effective hydrating moisturizer that offers numerous anti-aging benefits for all skin types. It is also a vegan-friendly product that is not tested on animals and in general, there are no concerning aspects relative to this product. We recommend that you should consider trying this product to give your skin the care it really deserves.
Top investigative research brought to you by the experts at Customer Review.