Caralluma Fimbriata Pure Review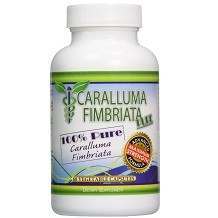 Here is our in-depth review of the Caralluma Fimbriata Pure weight loss supplement. This weight loss supplement has garnered much acclaim with customers due to the fast and positive results it has provided numerous individuals who are suffering from excessive weight gain. If you wish to learn more about this product, simply continue reading our review.
Ingredients
This product simply contains one primary ingredient and that is the Caralluma Fimbriata. The Caralluma is a type of cactus that is native to India. It was originally used as an appetite suppression by travelers who lived centuries ago. This is why it has become a popular weight loss ingredient today. The compounds contained within Caralluma Fimbriata are known to suppress the appetite by making you feel full. This ingredient is relatively safe as long as it is taken properly.
As for other ingredients, there is only one which is the herbal based capsule. This weight loss supplement contains no added fillers and only uses 100% pure Caralluma Fimbriata extract.
Dosage
Adults can take two capsules per day. You can choose to take one during the morning and another at night or you can also opt to take two capsules once during the day. Just remember that the ideal dosage is limited to two capsules a day (1000 mg/day) and that you should never exceed this dosage in order to ensure that no side effects may occur.
Possible Side Effects
Caralluma Fimbriata is known to be safe for use and will rarely cause any form of side effects. Of course, it is best to stay within the recommended dosage. There are cases where individuals experienced mild side effects, such as stomachaches but this usually disappeared quickly and was often experienced by first-time takers of this extract.
Price
Each bottle of Caralluma Fimbriata contains 60 capsules that are enough for a month's use, is priced at $49.95. For those who are planning on using this as a daily weight loss supplement, the official website offers monthly packages that are available with a discounted price per bottle. They offer the Mild Program Package which comes with two bottles at $69.90, the Advanced Program Package that includes four bottles at $99.80 and the Progressive Program Package that comes with six bottles, at a total price of $137.70.
Guarantee
This product comes with a 60 day money back guarantee which is a great deal for a weight loss supplement to have. Results will usually be noticed within a month or so of daily use along with proper diet and exercise so you will have plenty of time to find out if it is effective in your case. Keep in mind that while unopened and opened bottles can be returned, you must return every bottle you purchased in order to get the full refund, so do not throw away empty ones.
Conclusion of Caralluma Fimbriata Pure Review
Caralluma Fimbriata Pure is an amazing weight loss product that is both effective and safe. Just follow the instructions and add a bit of daily exercise and you will be well on your way to losing those unwanted pounds. This has been a trusted and safe weight loss supplement for years and it is high time to take advantage of this natural weight loss supplement.
Top investigative research brought to you by the experts at Customer Review.