Consumer Health Nitric Oxide Pure Review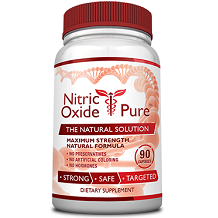 The following review of Nitric Oxide Pure provides an in-depth analysis of all the factors that contribute to the superior muscle-building properties of this product. The manufacturer states that this 100% pure formula will improve heart health, maximize muscle growth, and provide increased energy for workouts. The manufacturing process follows cGMP guidelines to ensure every product is of an exceptionally high standard.
Ingredients
L-arginine Blend (AAKG, MONO, MALATE, AKIC)
L-citrulline
Beetroot
Pine Bark
Quercetin
Fenugreek
Longjack
Oat
Bullhead
This impressive list of ingredients is designed to promote muscle growth and provide enhanced energy for an improved workout. This unique L-arginine Blend is formulated to increase blood flow and vasodilation which allows oxygen and nutrients to flow more easily around the body. L-citrulline is another essential ingredient that works to promote the production of Nitric Oxide in the body for fighting fatigue and increasing endurance. The addition of Pine Bark in this formula is an attractive factor. Pine Bark has been clinically-proven to reduce oxidative stress and increase blood flow for improved cardiovascular health. Quercetin is another powerful antioxidant known for its blood pressure reducing properties. This substance can be effective in combating hypertension. The formulation of this product adheres to strict cGMP guidelines to ensure that it meets quality standards. Furthermore, this product has been third-party tested to ensure the efficacy of the formula.
Dosage
As a dietary supplement: It is recommended that adults consume three (3) capsules daily, one (1) with each meal. As a pre-workout supplement: On training days, users should consume 3 capsules in the morning, 3 capsules thirty (30) minutes before a workout, and 3 capsules in the evening on training days. On non-training days, users should consume 3 capsules in the morning and 3 capsules in the evening. This will provide a sufficient dosage of the key active ingredients for optimal benefit.
Price
This product can be purchased online from the Nitric Oxide Pure web store. A one (1) bottle supply will cost you $49.95. There are additional discounts on bulk-buy orders which offer substantial savings. The most popular deal is 6 bottle 'Buy 3 Get 3 Free' special which costs $139.70. This will save you $280 off the list price. These impressive savings mean that long-term use of this product will be extremely affordable when compared to competitor products on the market. Furthermore, purchases are supported by a Norton Shopping Guarantee which protects you against possible ID theft associated with online shopping.
Guarantee
The manufacturer offers a 100% satisfaction guarantee when purchasing this product. The guarantee applies within 60 days from purchase and all products, opened or unopened, are eligible for a refund. This suggests that the manufacturer is confident in the product's ability to deliver on their claims. Several positive customer reviews support the efficacy of this product. Consumers have reported that this product increased blood circulation for improved energy during workouts as well as promoted faster muscle recovery after workouts.
Conclusion of Our Nitric Oxide Pure Review
Nitric Oxide Pure contains a potent formula of beneficial ingredients that are known to improve muscle growth, reduce post-workout recovery time, and increase energy levels during exercise. This formula adheres to strict cGMP guidelines, ensuring that it is of an exceptional quality. The efficacy of this product is supported by a 60-day money-back guarantee as well as several positive customer reviews. The substantial savings on bulk-buy orders make this a sustainable and reliable product for long-term use. Therefore, we highly recommend this Nitric Oxide supplement.
Top investigative research brought to you by the experts at Customer Review.