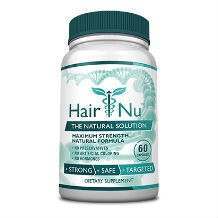 BEST PRODUCT
HairNu is appraised in this review. Surprisingly, this has turned out to be one of a few superior products of this kind—and may even be the best—that we have reviewed. HairNu claims not only to stop hair loss but to promote the growth of new hair as well. This supplement is meant to grow thicker and healthier hair to prevent hair loss in the future. If you would like to learn about how this product surprised us and how it works then continue reading below.
Ingredients (within 2 capsules)
5000IU Vitamin A (Beta Carotene) – supports scalp health and encourages healthy hair growth and skin
24IU Vitamin E (DL-Alpha Tocopheryl Acetate) – leads to improved hair growth when taken on a daily basis
20mg Vitamin B6 (Pyridoxine HCL) – part of the B Vitamin Complex, Vitamin B6 is needed to metabolize amino acids needed for strong and healthy hair growth
10mg Vitamin B2 (Riboflavin) – part of the B Vitamin Complex, needed for proper function of the skin and linked to healthy hair and nails
10mcg Vitamin B12 (Cyanocobalamin) – part of the B Vitamin Complex, Vitamin B12 is needed for the blood, skin health, brain and nervous system and so contributes to overall health
25mg Pantothenic Acid – part of the B Vitamin Complex, it allows the body to use fats, proteins and carbohydrates properly and keeps the skin healthy for optimum hair growth
16mg Zinc (Oxide) – promotes quick growth of hair, strengthens hair follicles and ensures natural zinc levels do not fall to a level where people normally experience chronic hair loss
10mg Iron (Ferrous Fumarate) – high levels of iron are needed to allow the normal rate of hair growth
900mcg Copper (Gluconate) – causes the formation of new hair follicles and has antioxidant properties that prevent hair loss and keep blood healthy
500mcg Biotin – a deficiency of Biotin causes massive hair loss and so by ensuring you have enough in your system, you can prevent hair loss for this reason
200mcg Folic Acid – part of the B Vitamin Complex, Folic Acid triggers the growth of new hair and lets hair grow longer
150mcg Iodine (Potassium Iodide) – needed for good thyroid health, which is important for good hair growth
70mcg Selenium (Amino Acid Chelate) – prevents oxidative stress, boosts the immune system, maintains proper hair growth and prevents hair loss
400mg Saw Palmetto (Serenoa Repens) – blocks the 5-alpha-reductase enzyme that converts testosterone into Dihydrotesterone (DHT), a follicle blocking hormone
200mg L-Cysteine – a sulfur-based amino acid needed to boost hair growth
200mg L-Methionine – a sulfur-based amino acid that strengthens hair follicles and encourages hair growth
120mg Ginkgo Biloba – improves blood flow to the scalp, can speed up hair growth and encourages the generation of hair follicle cells
100mg Fo-Ti (Fallopia Multiflora) – strengthens and cleanses the circulatory system and kidneys to increase healthy blood flow, get toxins out of the body and prevent hair loss as a result
100mg MSM (Methylsulfonylmethane) – a source of sulfur that is needed to make keratin and collagen, which are important components of hair and nails
50mg Silica – helps in the production of connective tissue and collagen, improves circulation and strengthens blood vessels to encourage stronger and quicker hair growth
20mg Borage Oil (Borago Officinalis) – has high levels of gamma-linoleic acid (GLA) that reduces inflammation, helps retain moisture, keeps hair, skin and nails healthy, soothes the scalp and helps follicles make healthier and stronger hair
Gelatin (Capsule)
Microcrystalline Cellulose
Magnesium Stearate
Silicon Dioxide
There are no hormones, artificial coloring or preservatives in this supplement.
Dosage
The recommended dosage for an adult is two capsules a day with meals. For best results, you should take a capsule with breakfast and with your evening meal.
Possible Side Effects
Overall, HairNu does not interact with medications but it is advised that you talk to your doctor before taking it if you have any concerns. It is also advisable that you consult with a doctor if you are pregnant or lactating. If an adverse reaction should occur then you must discontinue use of this product and talk to your doctor.
Price
HairNu can only be bought online from the HairNu website. A variety of packages are available to buy with different amounts of the product in each one, ranging from one bottle to six. The smallest contains just one bottle containing a supply for a month. This is sold for $49.95. The two-bottle package is $69.90, the three-bottle package is $95.85, the four-bottle one is $111.80 and the five-bottle one is $124.75. The best value option is the six-bottle one. At the time of writing, this package was on sale with it selling for $139.80, down from $359.70, and each bottle only costing about $23.30.
Guarantee
HairNu has a 100% money back guarantee covering a 60-day period. If you buy HairNu and find that you are not completely satisfied then the manufacturer is giving you the opportunity to return your order within 60 days to receive a full refund. All bottles you buy must be returned to get your money back and you must call them before the 60 days are up. You can return your bottles opened or unopened without any trouble from the manufacturer. Any refund you get will exclude shipping charges so be aware of that. However, it i unlikely that you would find yourself unhappy with this product as the manufacturer boasts a return rate of less than 1%. Not only that but there is positive feedback from customers that can be found on HairNu's website. Every customer comment shows delight in the effectiveness of the product.
Conclusion of HairNu Review
HairNu is a supplement that appears to do what it says. It has a large number of high strength ingredients that are combined to have a fast and noticeable impact on hair loss. It appears to be very effective and customers who have used it agree. By buying in bulk, the product is more than affordable and it is entirely worthwhile to buy the largest amount because it saves money and you can get your money back if needs be. It has a good guarantee, which shows that the manufacturer has confidence in this product. Lastly, it is of superb quality using only the finest, third party tested ingredients and is manufactured in a facility that is GMP Certified. This is a supplement worth looking into if you are suffering from hair loss.
Top investigative research brought to you by the experts at Customer Review.