Hairprin Natural Hair Support Review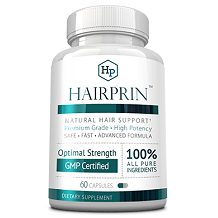 This review is intended as a source of advice and information for the potential consumer wanting to learn more about Hairprin Natural Hair Support. This form of medication is developed to stop and prevent hair loss while also promoting hair nourishment and growth. It works by quickly halting the shrinkage of follicles and it stimulates hair growth by greatly improving the scalp's health.
Ingredients
Natural Hair Support contains the active ingredients required for the entire regenerative process that will halt the loss of hair and promote its growth as well as a resilient, healthy scalp. Each chosen element will contribute to blocking the cause of losing follicles and begin the hair and scalp restoration action.
Here are the main ingredients:
Saw Palmetto – contains a compound called Beta-Sitosterol which is a DHT blocker
Gingko Biloba – promotes regeneration of the hair follicle cells
Tocotrienol – improves hair strength and growth
MSM – strengthens the immune system, reduces inflammation
L-Cysteine – integral part of hair growth, promotes faster hair growth
L-Methionine – contains amino acids and promotes hair growth
Biotin – can effectively reverse hair loss, maintains viability and health of hair follicles
Vitamin A – greatly improves hair strength and growth
Vitamin B Complex – good for skin moisture, hair growth, and nail growth
Dosage
The label recommends taking 2 capsules on a daily basis for obtaining and maintaining the desired effect. In order to achieve optimal results, the consumer should take the medication as a dietary supplement once in the morning and a second time in the afternoon.
Possible Side Effects
There are no possible side effects listed on the label as no negative reactions should appear when using this medication. Its natural ingredients pose no threat to the user's health and it is safe to use for extended periods of time. It is advisable, however, to contact a physician prior to use if the consumer is undergoing any other kind of treatment.
Price
This product is available at the base price of $49.95. However, there are different discounts the user can take advantage of if they order more than one container. Several months worth of supply packages are on offer. For instance, the pack containing two bottles will lower the base cost of the product to $34.95. This price will keep going down the more containers the consumer purchases. If they order the special 6 pack, the price will be reduced to only $23.30 per each bottle.
Guarantee
The product comes with a 60 day refund guarantee from the manufacturer. The product receives full backing from the manufacturing company as the consumer is allowed to return a product without questions asked. A full refund can be offered even if the product is open and used as long as it has been returned within the 60 day limit.
Reviews are further backing this product as they are highly positive. Users frequently discuss how efficient and safe the product is.
Conclusion
Hairprin's Natural Hair Support is a natural remedy that will stop hair from falling out and stimulate it to grow. It contains clinically tested ingredients that are risk free and the manufacturer backs these claims even further with a solid guarantee. Click here to discover our top rated hair loss treatment products.
Top investigative research brought to you by the experts at Customer Review.