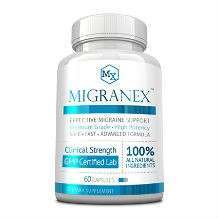 This review is of Migranex. This migraine supplement is truly fantastic and we are immensely pleased to be able to investigate it. This supplement does not just treat the symptoms of migraines to provide relief but also reduces migraine numbers, severity and length. Additionally, this natural product provides the body with a number of important nutrients. To see why we have such a high opinion of it, read onward.
Ingredients
Magnesium – Releases inflammatory mediators, inhibits platelet aggregation and stabilizes cell membranes
Riboflavin – Reduces the rate that migraines recur by increasing the electron transport chain's activity
Ginger (Zingiber Officinale) – Provides relief from pain and reduces migraine triggers by binding to serotonin receptors
Feverfew (Tanacetum Parthenium) – stops platelet aggregation to reduce duration, severity and frequency of migraines
Butterbur (Petasites) – Aids cerebral blood flow and muscle relaxation by providing anti-inflammatory and spasmolytic effects
Wild Yam (Discorea Vilosa) Root – Manages hormone balance and has anti-inflammatory and antispasmodic effects
Gingko Biloba – Improves the brain and body's circulation
White Willow Bark (Salix Alba) – Contains Salacin, which provides pain relief and anti-inflammatory effects because it is a precursor to aspirin
Niacin – Balances sugar levels and promotes the release of energy to reduce attack frequency
Black Pepper (Piper Nigrum)
Bromelain (from Pineapple) – Combats headaches that occur due to infection and sinus inflammation
Gelatin
Calcium Carbonate
Magnesium Stearate
Dosage
2 capsules should be taken 3 times each day, with 2 capsules taken in the morning, in the afternoon and evening. 2 capsules should be taken a day for ongoing use, with 1 taken in the morning and 1 taken in the evening.
Possible Side Effects
The suggested dosage should not be exceeded. If you have any concerns about taking Migranex because you are under 18, have a medical condition, or are pregnant or nursing then you should consult with a physician prior to taking this supplement.
Price
Migranex is most easily purchased directly from the manufacturer through the Migranex website. One to six bottles can be bought at a time and when you buy multiple bottles at a time, there is a reduction in price. The Single Bottle Package is a one-bottle supply with sixty capsules for $49.95. The Starter Package is two bottles at $69.90. The Most Popular Package is a three-bottle supply for $95.85. The Intermediate Package contains four bottles for $111.80. The Advanced Package is five bottles for $124.75. The Best Value Package is excellent value for money, as the name suggests, with each of the six bottles it contains costing $23.30 apiece or $139.80 in total.
Guarantee
Migranex has a 60-day satisfaction guarantee. If you are unsatisfied with Migranex then you must return within 60 days. Bottles can be sent back either unopened or opened to have the opportunity of receiving a refund, minus the cost of shipping. To ensure a valid return, contact customer support to receive a Return Number and a return address. This number must be placed on or in the return package alongside your name and address. Once that is done, you are free to ship the product back. There are a number of positive testimonials available to view on the Migranex website from consumers who have found that the product has worked great for them. Compared to other solutions for dealing with migraines, it seems that Migranex is particularly handy because it is just two capsules a day as opposed to having to take a whole host of medication, and contains everything you need without having to look into other supplements.
Conclusion for Migranex Review
Migranex has been positively received by consumers as is apparent from the highly positive testimonials. This potent supplement uses a large number of natural ingredients put together in a GMP Certified lab and has a strong guarantee that allows you to return the bottles if you find yourself dissatisfied with the product. It is reasonably priced considering that the alternative is buying painkillers and other migraine relief products to use several of them at once as opposed to two capsules a day. Considering its many benefits, including preventing migraines in the future as opposed to just providing temporary relief, Migranex is a product you should think about using.
Top investigative research brought to you by the experts at Customer Review.