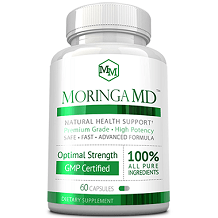 Moringa MD is a weight loss supplement we had to share because of its 100% all-natural Moringa Oleifera formula and the many benefits of its use discovered in our research. Moringa MD promotes weight loss by reducing food cravings, boosting metabolism, regulating healthy blood sugar levels, and increasing energy. Despite engaging several areas of weight loss support, Moringa MD is a simple formula absent of sugary and non-essential fillers. Other products use sugary fillers to manipulate a surge of energy in consumers. The manufacturers of Moringa MD reduced their formula to pure Moringa Oliefera extract providing consumers with a safe and potent supplement.
Ingredients
Moringa Oleifera is a plant-based herbal ingredient that researchers discovered has many uses. It has been transformed into teas, herbal spices, and is quickly becoming one of today's most popular supplements. Moringa Oleifera is known to have anti-inflammatory properties, as well as controlling cholesterol and diabetes. Moringa MD contains 100% pure Moringa Oleifera 4:1 ratio extract. It also includes the vegetable cellulose which makes up the capsule.
Dosage
To receive the formulas maximum benefit, take one capsule in the morning and another capsule in the afternoon prior to meals. Moringa MD may also be taken at the same time, consuming both capsules together. Swallow one or both capsules along with a glass of water 30 minutes before a meal.
Possible Side Effects
Moringa MD does not have any noted side effects, and as the product is made from all-natural ingredients without the use of any added fillers and binders, side effects should be limited. However, supplements can affect each individual differently. Nursing or pregnant mothers, those with existing medical conditions, and children under the age of 18 should consult a healthcare professional prior to use.
Price
A single bottle of Moringa MD is priced at $49.95 on the manufacturer's website. The purchase of a single bottle provides a 30-day supply of the supplement. There are discounts associated with the purchase of multiple bottles of Moringa MD. For $69.90, customers can purchase two bottles reducing the price of each bottle to $34.95. Purchase three bottles of Moringa MD and receive three free bottles for a total cost of $139.80.
Guarantee
Purchases of Moringa MD are backed by the manufacturer's 60-day money back guarantee. Customers may return any portion of Moringa MD within 60 days of the original purchase date for any reason. This 100% money back guarantee applies to both used and unused portions of the product.
Conclusion Of Our Moringa MD Review
Moringa MD has helped many customers achieve their weight loss goals. This ingredient helps to suppress the appetite while boosting energy and increasing the body's fat burning capabilities. The manufacturer has chosen to only use a formula of the highest potency when researching and developing this unique supplement. A 100% natural variation of the ingredient in Moringa MD makes this supplement a safer choice compared to competitors and it provides consumers with the same great benefits. The great money-back guarantee is another element that makes this product worth trying.
Top investigative research brought to you by the experts at Customer Review.