Nutrabelief Detox Cleanse Weight Loss Review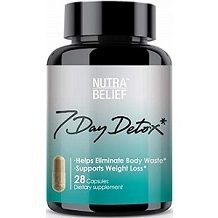 Today we review Nutrabelief Detox Cleanse Weight Loss. By combining the power of a diet pill with a colon cleanse, this supplement takes care of two problems in one. This 7 day cleanse claims to help clean your intestinal tract of excess waste which in turn gives your more energy and stops bloating.
Ingredients
Psyllium Seed Husks Powder
Cape Aloe Leaf Powder
Oat Bran Powder
Flaxseed Powder
Senna Leaf Powder
Aloe Vera Inner Leaf Gel Powder
Lactobacillus Acidophilus
Korean Mint Leaf Extract
Rose Hip Fruit Extract
Pomegranate Fruit Extract
These ingredients are shown to help your body naturally clear itself from toxins. Unfortunately, we were unsure which specific ingredients were meant to target your appetite and in turn help you lose weight.
Dosage
The recommended dose for this supplement is to take two capsules, twice per day. Each dose should be taken one hour before a meal, with a large glass of water. If you experience any side effects, you should lower the dose to only 1-2 capsules per day total.
Possible Side Effects
This manufacturer lists many warnings in regards to this product. These pills can cause choking if not taken with enough water. If you are pregnant, nursing, have any preexisting medical conditions, or are planning a medical procedure, you should consult with a healthcare physician before beginning this supplement. This bottle should be tightly closed at all times and stored in a cool, dark place. Children under the age of 18 should not use this supplement.
Price
This supplement is available for purchase through Amazon. Each bottle contains 28 capsules, which is enough for one 7 day cleanse. The bottle costs $12.99 and comes with free shipping. This price is slightly less expensive than other similar products.
Guarantee
As we were only able to find information regarding this product through Amazon and not its original manufacturer, we also found no information regarding a money back guarantee. If you find yourself unsatisfied with this purchase, there is no way to return the product for a refund. This is especially concerning as multiple customers reported they received empty bottles in their orders. Without a guarantee of the possibility for a refund, you are at risk of wasting your money.
Conclusion of Our Nutrabelief Detox Cleanse Weight Loss Review
There are a few things we liked about Nutrabelief Detox Cleanse Weight Loss. The ingredients used in this supplement are all known to help your body naturally rid itself of excess waste and toxins. Also, the price of this cleanse is cheaper than some of its competitors.
Unfortunately, we had many concerns in regards to this product. First of all, this supplement advertises itself as a cleanse and a weight loss pill, but there are no ingredients to help you lose weight. Next, there were many warnings about these capsules making us wonder about the overall safety of the product. Lastly, as we found no information regarding the original manufacturer, we also found no money back guarantee. For these reasons, we cannot recommend this supplement to help you clean your body for a fresh start.
Top investigative research brought to you by the experts at Customer Review.