Premium Certified FreshMD Review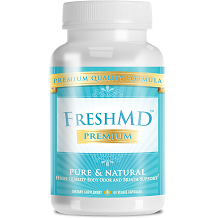 The following product review of FreshMD provides in-depth information about this product and its ability to combat malodors such as bad breath, body odor, and foot odor. The manufacturer of this product, Premium Certified, claims that it gets to the root of the problem to provide superior results to masking solutions such as body spray and antiperspirant. Click here for more information about Premium Certified. This product consists of a 100% all-natural formula that is suitable for vegans.
Ingredients
Lactobacillus Acidophilus
Chlorophyllin-Copper Complex
Green Tea Extract
Magnolia Bark Extract
Peppermint Oil
Fennel Seed
This patented and clinically-tested formula contains several ingredients that are essential to fighting bacteria which causes bad breath and body odor. Lactobacillus Acidophilus is a probiotic, with several additional health benefits, that helps balance bacteria in the gut and mouth to combat imbalances which would result in bad odor. Furthermore, the inclusion of Magnolia Bark Extract plays a pivotal role in eliminating bacteria that causes bad breath. Additional ingredients such as Peppermint Oil and Fennel Seed provide antiseptic properties for healthy gums and promote the production of gastric juices which prevent body odors respectively. The formulation of this beneficial product follows strict cGMP guidelines to ensure that ingredients are of an exceptionally high quality. Furthermore, products have been tested in independent laboratories to ensure efficacy. This gives you peace of mind regarding the ability of this product to deliver optimal results.
Dosage
The manufacturer recommends consuming two (2) capsules daily for optimal results. Each serving provides a sufficient dosage of its key active ingredients to deliver decreased body odor when used as recommended.
Possible Side Effects
This product formula consists of 100% natural ingredients and does not include any preservatives, fillers, or artificial ingredients. As a result, there are no negative side effects reported by the manufacturer. This supplement should be safe when consumed with other medication, however, it is advised that you consult a health practitioner prior.
Price
This product is sold online through FreshMD. A 60-capsule bottle (one month supply) will cost you $48. Fortunately, the manufacturer offers a number of discounted deals to ensure that long-term use of this product is cost-effective. The most popular option is a 'Buy 3 Get 3 Free' deal which costs $138, saving you $270. This product is competitively priced and this substantial saving potential is an appealing selling point. Every online purchase is supported by a Norton Shopping Guarantee which protects consumers from ID theft. This is beneficial for frequent online shoppers.
Guarantee
The efficacy of this product is supported by a 90-day money-back guarantee. This lengthy guarantee suggests that that manufacturer is confident in the product's ability to deliver on claims as well as provides sufficient time for you to test the product's effectiveness. Unopened and opened products are eligible for a full refund which is extremely advantageous.
Conclusion of Our FreshMD Review
This product is a beneficial odor alleviating supplement, providing essential ingredients that target the internal root causes of bad breath and body odor. The effectiveness of this formula is supported by a quality patent and clinical studies. Furthermore, a sufficient guarantee suggests that this product will deliver on the manufacturer's claims. The ample purchasing options make this product an ideal choice for consumers seeking a long-term preventative product. Therefore, we recommend this product as an effective remedy for bad breath and body odor.
Top investigative research brought to you by the experts at Customer Review.