Premium Certified JetLagMD Review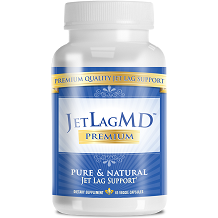 The following review of JetLagMD provides in-depth information about the product and its ability to calm the mind and fight physical fatigue. This will help you make an informed purchasing decision. The manufacturer of this product, Premium Certified, claims that it is an all-natural formula of powerful ingredients geared towards reducing the stresses associated with travel. Click here for more information on Premium Certified. The product contains a potent formula that has been manufactured following quality standard measures.
Ingredients
L-Ornithine
L-Theanine
GABA
Chamomile
Ashwagandha
DMAE Bitartrate
Magnesium
Calcium
B-Vitamins
The aforementioned patented formula contains several beneficial substances that promote quality sleep and provide prolonged energy to combat fatigue. L-Ornithine, when tested in a clinical study, was found to reduce serum cortisol levels in the users' bodies. This has a direct impact on the body's ability to recover from fatigue. GABA is a neurotransmitter that has a calming effect on the brain and reduces anxiety. Other calming agents in this formula include Chamomile and Ashwagandha. DMAE Bitartrate has powerful brain enhancing properties and aids in regulating users' sleep cycles. This combination of ingredients, when used as recommended, can alleviate stresses caused by traveling and improve an individuals quality of sleep – combating the fatigue associated with jet lag. This formula is manufactured under strict cGMP guidelines to ensure that it is of an exceptional standard.
Dosage
The manufacturer provides clear information on how to use this product for optimal benefit. It is advised that you consume two (2) capsules thirty (30) minutes before your flight and a further 2 capsules when you arrive. You should then consume one (1) capsule per day until you no longer feel symptoms. The dosage provided per serving contains a sufficient level of the key active ingredients for fighting symptoms of jet lag.
Possible Side Effects
As this product is 100% natural and does not contain preservatives, additives, or artificial ingredients; the manufacturer states that there are no noted negative side effects. This product is suitable for vegans. However, it is advised that you do not exceed the recommended dosage.
Price
A 45-capsule bottle of this product can be purchased online from JetLagMD for $48, however, the manufacturer offers substantial savings on bulk-buy orders. A six (6) bottle supply comes at a reduced price of $138, which saves you $270. The range of purchasing options available to you is a positive factor and means that long-term use would not be overly expensive. Purchases of this product are supported by a Norton Shopping Guarantee which protects you from ID theft.
Guarantee
This product is backed by a 100% guarantee. This guarantee applies for 90 days from purchase and opened products are eligible for a refund. This is suggestive of the manufacturer's confidence in the product's ability to provide the desired results. This bodes well for the efficacy of the product and gives consumers peace of mind.
Conclusion of Our JetLagMD Review
We have found that JetLagMD contains an impressive list of ingredients that are clinically-proven to provide optimal relief from symptoms associated with jet lag. The fact that this formula is patented and tested is a testament to its high standard. The efficacy of this product is supported by a money-back guarantee. And finally, the substantial bulk-buy deals make long-term use an affordable option. Therefore, we recommend this fatigue-relieving supplement as an effective remedy for jet lag.
Top investigative research brought to you by the experts at Customer Review.