Premium Certified MigraMD Review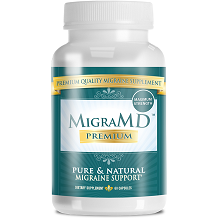 The following review of MigraMD elaborates on all the factors that make this product an effective supplement and why you should consider purchasing it. The company, that has produced this product, states that it provides key nutrients known to manage migraines, reduce associated pain, and prevent future attacks. This formula, which is manufactured under strict cGMP guidelines, is of an exceptionally pure and high quality.
Ingredients
Riboflavin
Niacinamide
Magnesium
Butterbur
Feverfew
Ginger
Ginkgo Biloba
Wild Yam Root
Bromelain
White Willow
Black Pepper
The aforementioned formula contains an impressive list of clinically-proven ingredients that support the management of headaches and migraines. Riboflavin, commonly known as Vitamin B2, is an essential substance that promotes tissue respiration for reduced frequency of headaches. Niacinamide plays a pivotal role in mitochondrial energy production which is hindered in those that suffer from severe migraines. The addition of the mineral Magnesium is an extremely positive factor as this substance regulates the contraction and dilation of blood vessels during migraines and, therefore, reduces associated pain. Additional natural ingredients such as Butterbur and Feverfew are known for their anti-inflammatory properties which reduce discomforting symptoms caused by migraines, such as nausea and spasms. This list of all-natural ingredients is formulated under cGMP guidelines which ensure that the product meets a quality standard. This supplement complies with US Pharmacopeia standards of purity and quality for added assurance of efficacy.
Dosage
The manufacturer recommends consuming two (2) capsules daily with meals. This dosage will provide 400mg of Riboflavin which is known to be the optimal dose for effective migraine relief. Therefore, users will not need additional dosage for enhanced results.
Possible Side Effects
Riboflavin may cause one's urine to turn yellow, however, this is normal and the manufacturer does not note any other negative side effects associated with the use of this product. As it is an all-natural supplement that does not contain additives, preservatives, or artificial ingredients; it is likely safe to consume with other medication. That being said, a health practitioner should be consulted in these cases.
Price
A one (1) month supply of MigraMD is sold online, at a $20 discount, for $48. The manufacturer offers additional purchasing options, with their most popular choice being a 'Buy 3 Get 3 Free' deal. This six (6) month supply will cost you $138, meaning you save $270. This is a substantial saving which makes the long-term use of this product an attractive selling point. Online purchases are secured with a Norton Shopping Guarantee which covers you from possible ID theft associated with online shopping.
Guarantee
This product is backed by a 100% satisfaction guarantee. This guarantee is applicable within 90 days of purchase, providing ample time to test the product's efficacy. Both opened and unopened products are eligible for a refund which suggests that the manufacturer is confident in its ability to deliver optimal results.
Conclusion of Our MigraMD Review
This product contains a number of key ingredients that are clinically-proven to provide optimal migraine relief. The quality of the formula is supported by strict compliance with US Pharmacopeia standards and cGMP guidelines. Efficacy is assured as the manufacturer provides a lengthy refund on all purchases. Lastly, the substantial saving potential for bulk-buy orders makes this an appealing product on the market. It is for these reasons that we highly recommend MigraMD for migraine management and relief from headaches.
Top investigative research brought to you by the experts at Customer Review.