Premium Certified RingwormMD Review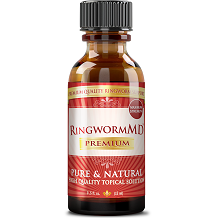 This is a review of RingwormMD, a 100% all-natural ringworm relief ointment that also works as a preventative measure. This product provides a powerful formula of ingredients that relieve the itching and burning symptoms associated with ringworm, as well as support the body to fight against this contagious fungal infection. The producer of RingwormMD states that this product is pure and effective, serving as a high-quality ringworm solution.
Ingredients
Undecylenic Acid
Mineral Oil
Organic Flaxseed Oil
Sweet Almond Oil
Canola Oil
Tea Tree Oil
Tocopheryl Acetate
Aloe Vera Leaf Extract
Walnut Oil
Clove Bud Oil
Jojoba Oil
Camphor Oil
Menthol
Chia Oil
Lavender Oil
Manuka Oil
Lemongrass Oil
The above ingredients are vegan-friendly and not tested on animals; as well as possess no fillers, binders, preservatives, or artificial ingredients. Undecylenic Acid is a key ingredient in this formula as there have been many clinical studies that support its effectiveness in getting rid of fungal infections. This formula uses a 25% concentration that has been regarded as the optimal potency for preventing fungus from multiplying and spreading. The other key ingredients such as mineral and sweet almond oil nourish the skin, while aloe vera and flaxseed reduce inflammation. The combination of these ingredients has been known to relieve the burning and itching symptoms of ringworm. These ingredients are also thoroughly tested and abide by cGMP guidelines – ensuring the highest quality and efficacy.
Dosage
The manufacturer is clear on how to use RingwormMD; apply the product three (3) times a day – in the morning, afternoon, and evening. To apply the product, simply use the application brush and coat the affected area with the ointment.
Possible Side Effects
There have been no reported side effects when using this all-natural product. People do react to products differently and the following should be considered when using any new ringworm product: in case of skin irritation, if you are under the age of 18, pregnant or nursing, or have a pre-existing medical condition; be sure to consult your physician for additional peace of mind. Otherwise, this product has been known to bring relief within a few applications, is safe for prolonged use, and as a preventative measure.
Price
RingwormMD is available for purchase from the manufacturer's website; where a single bottle (equivalent to a month's supply) can be bought for $48,00. There are many package options available, with the most popular package offering 6 bottles (buy 3, get 3 free) for $138,00 – saving you $270,00 for a 6-month supply. This package deal offers great value for money and will allow customers to afford the sustained use of this product.
Guarantee
Premium Certified offers a 100% money back guarantee, giving customers an impressive 90-day period from purchase to qualify for their refund. This showcases that the manufacturer is confident in the efficacy of this product, especially by extending this policy to accepting opened containers.
Conclusion of Our RingwormMD Review
RingwormMD is a product with an accurate concentration and a well-considered formula of ingredients that are all-natural as well as abide by strict cGMP guidelines. This quality product has a variety of package options available, allowing for an affordable sustained use of this ringworm solution. The manufacturer also provides an extensive guarantee of 90 days that showcases confidence in the product and its efficacy. In saying so, we highly recommend this product as a wise customer choice.
Top investigative research brought to you by the experts at Customer Review.