Premium Certified RootMD Review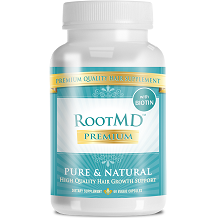 The following review is of a hair growth supplement called RootMD, an all-natural solution to healthy hair growth that also prevents the cause of hair loss – resulting in thicker and more luscious locks. The company that manufactures RootMD is incredibly confident in their product's quality and efficacy, exceeding the market standards by providing a product that is thoroughly researched and tested.
Ingredients
Vitamin A
Vitamin E
B Vitamins
Zinc
Iron
Copper
Biotin
Iodine
Selenium
Saw Palmetto
L-Cysteine
L-Methionine
Ginkgo Biloba
Fo-Ti
MSM (Methylsulfonylmethane)
Silica
Borage Oil
The various vitamins in this formula are known to support hair growth by nourishing and strengthening the hair while improving the health of hair follicles. Biotin is added to support cell proliferation, reducing the likelihood of hair loss. Saw Palmetto balances out hormones, therefore, reducing hair loss while promoting growth. The additional all-natural vitamins, minerals, and herbal extracts are known to support the purpose of this product. These ingredients are vegan-friendly, cruelty-free, and abide by strict cGMP guidelines; ensuring the utmost quality and efficacy.
Dosage
The directions to use this product are clear and simple, take two (2) capsules daily with meals. For optimal results, the manufacturer advises taking one (1) capsule in the morning and one (1) at night. Do not exceed recommended dose.
Possible Side Effects
The lack of additional fillers, binders, and artificial ingredients, as well as the adherence to strict cGMP guidelines, can give customers peace of mind that this product is pure and of a high quality. As pregnant or nursing mothers, those under the age of 18, and anyone with a pre-existing condition such as thyroid issues must take additional caution when changing their diet or supplement routine; the manufacturer recommends speaking with a physician before use. This product is all-natural and hasn't had any reports of negative side-effects upon use.
Price
To purchase a bottle of RootMD supplements, you can do so from the manufacturer's website. One bottle will last you 1 month, costing you $48,00 dollars. There are many packages available that give customers a variety of value-driven options; such as the most popular package of buy 3, get 3 free. This package gives you a 6 month supply of RootMD for $138,00 – saving you $270,00. There is also an option to purchase combination packs where you receive concentrated BiotinMD as well as RootMD for additional support. If you would like to test how these products may work together, you can purchase a samplers package for $80,00. The manufacturer not only gives you a variety of choice but enables the affordable long-term use of this quality product.
Guarantee
The manufacturer showcases a lot of confidence in this product by offering an impressive 90-day 100% money-back guarantee on this product. Even customers who have opened their containers of RootMD still qualify for this refund, which is a generous consideration.
Conclusion of Our RootMD Review
RootMD is a quality product that is known to be effective in stop hair-loss while regrowing healthier and thicker hair. The ingredients are well-researched and tested, abiding by cGMP guidelines which support the manufacturer's claims of quality and purity. This product is affordable, especially considering the many value-added package options available. There is also an extensive guarantee that gives customers confidence in the efficacy of this product, so we can happily say that we do recommend this product as a quality and all-natural hair growth supplement.
Top investigative research brought to you by the experts at Customer Review.