Premium Certified YeastMD Review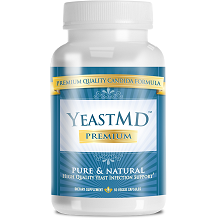 The following review is on YeastMD, an all-natural supplement that has been known to relieve the pain and discomfort associated with yeast infections, as well as provide a gentle and preventative support to already delicate areas. Premium Certified has included all-natural ingredients that are well-researched and quality-assured, providing a solution that offers more customer value than competing brands on the market.
Ingredients
Bacillus Coagulans
Bacillus Subtilis
Enterococcus Faecium
Bifidobacterium Longum
Lactobacillus Acidophilus
Calcium Undecylenate (Undecylenic Acid)
Fructo-oligosaccharides (FOS)
Vitamin C
Vitamin B1 (Thiamine)
Vitamin B2 (Riboflavin)
Vitamin B6 (Pyridoxine)
Undecylenic Acid is a key ingredient added to this formula to relieve the itching and burning associated with fungal infections. This formula also contains a variety of bacteria such as Bacillus Coagulans and Bacillus Subtilis, (otherwise known as probiotics) which balance, protect and support digestive, penile, and vaginal health. These ingredients work synergistically together to maintain a regular balance of yeast and bacteria within the body; relieving the symptoms of yeast infections while reducing the risk of future infections. This formula is vegan, cruelty-free, 100% pure and natural, as well as contains ingredients that are clinically proven to relieve yeast infections. This product has been certified through strict cGMP guidelines, is registered with the FDA, and has gone through many third-party tests; giving customers the confidence that this product is both effective and high in quality.
Dosage
The manufacturer recommends clear dosage instructions: taking two (2) capsules daily. For optimal results, one (1) capsule should be taken in the morning and one (1) taken in the afternoon.
Possible Side Effects
There have been no unwanted side-effects reported as a result of the use of this product. As with all changes in diet, consult a physician if you have any concerns or pre-existing conditions. Since this product is all-natural and certified as being of an incredibly high quality, we believe that it is safe to use as a dietary supplement as long as the recommended dose is not exceeded.
Price
To purchase a bottle of YeastMD supplements, you can do so from the manufacturer's website. 1 bottle is equivalent to a months supply and will cost you $48,00 for 60 capsules. There are many package options available; such as a 3 pack, 4 pack, and 6 pack that all offer great value for money. The 6 pack is the most popular purchase option and will cost you $138,00 for a 6 month supply of YeastMD. This product is not only of a superior quality but is affordable too.
Guarantee
The manufacturer offers a 100% money back guarantee that spans over 90 days from purchase. This showcases an impressive confidence in the product, especially since this policy applies to opened containers.
Conclusion of Our Premium Certified YeastMD Review
YeastMD is an effective yet gentle supplement that relieves the symptoms associated with yeast infections as well as acts as a preventative measure. The ingredients are of a high standard as they are cGMP certified among many other quality assurance measures. This all-natural and vegan product is incredibly affordable thanks to the package deals offered by the manufacturer. The manufacturer also offers superior customer support through the 90-day returns policy and a 100% money-back guarantee. Based on quality, affordability, and guarantee; we highly recommend this product.
Top investigative research brought to you by the experts at Customer Review.