Quality of Life Labs ProstaCell Review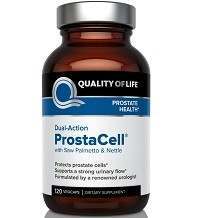 Prostate problems can be an uncomfortable topic for men as they are related to both sexual issues and with problems urinating. However, if left untreated, prostate issues may turn into conditions that can only be resolved through surgery, injections, or other more intrusive treatments. There are many supplements on the market targeted at prostate health. These products use blends of ingredients designed to soothe the urinary tract, improve urine flow, and improve overall prostate health by reducing the size of the prostate gland to a healthy level.
It is important of men over the age of 45 to supplement their diet with a prostate health supplement. Currently, more than 100 million men already suffer from an enlarged prostate. The prostate gland in its normally about the size of a walnut and is situated under the bladder where urine is stored in front of the rectum. The prostate never stops growing and as it does, it puts pressure of the urethra. The bladder then starts to contract, which leads to urination problems.
The good news is that products like Quality of Life ProstaCell that can eliminate the symptoms of an England prostate and improve prostate health. You just need to find one that utilizes the right components that is best for you.
Ingredients
There are many prostate health supplements that use many different types of ingredients. Some medicines use herbal remedies or contain only all natural ingredients. Another popular treatment option is a product that contains homeopathic ingredients. The bottom line is that there are many available choices on the market. This product contains the following ingredients:
• Vitamin D3 – 100 IU
• Vitamin E – 12.5 IU
• Selenium – 50 mcg
• Red Clover Herb Extract – 37.5 mg
• Pygeum Extract – 25 mg
• Saw Palmetto Extract – 40 mg
• Nettle Root Dry Extract – 30 mg
• Modified Food Starch
• Tricalcium Phosphate
• Colloidal Anhydrous Silica
• Maltodextrin
• Soybean Oil
• Silicon Dioxide
• Vegetable Cellulose
• Leucine
Dosage
The manufacturer recommends taking two (2) capsules, twice daily with meals.
Side Effects
No side effects could be identified for this product. As always, with any medication, supplement or treatment, consult your doctor before use.
Price
Internet pricing may vary from website to website. At the time of writing this review this product was found at a price of $39.95 for a bottle of 120 capsules, which under the suggested use should last about one month.
Guarantee
Many people want a guarantee as an assurance that if they don't get the results that they are looking for, they will not be punished. Depending on where you buy this product, individual websites may off their own money-back guarantees.
The manufacturer provides a 30-day money-back guarantee minus the price of shipping and handling.
Conclusion – Quality of Life Labs ProstaCell Review
There are a lot of great weight loss products on the market, including Quality of Life ProstaCell. This product is not FDA however, which would tremendously increase it's credibility on the market.
Top investigative research brought to you by the experts at Customer Review.