Research Verified Athlete's Foot Killer Review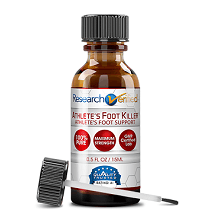 This is a review for Research Verified Athlete's Foot Killer to help you decide if this is the right product for you. This product is one of the best products I have ever reviewed because of its high quality products and easy-to-find information. The manufacturer claims that this product has the ability to reduce length of infection as well as severity and frequency of athlete's foot. They also claim this product can get rid of the fungus as well as the burning and itching. Keep reading to find out more about this product.
Ingredients
This product contains the following ingredients:
Manuka Oil
Sweet Almond Oil
Eugenia Caryophyllus
Juglans Nigra
Propolis Extract
Menthol
Lavender Oil
Tocopheryl Acetate
Dosage
The label states to apply this product 3-4 times a day once in the morning, afternoon, and evening. It comes with an applicator brush to coat the affected areas. The website does state also, that this information is listed on the label. It also states that women who are expecting a child or nursing, should not use this product without consulting their doctor beforehand.
Possible Side Effects
The manufacturer only uses natural ingredients to minimize the chances of side effects. You can read more about Research Verified and their manufacturing process online through different reviews. There are no side effects listed for this product but there are some warnings listed on the label. You should not get this product in your eyes and if you do wash with water immediately and consult a physician. If you experience irritation from taking this product then discontinue and consult your doctor.
Price
Research Verified offers three different packages for customers to choose from. You can purchase a one-month supply of this product for $48. If you prefer to purchase products in bulk you can buy a three-month supply for $98 which saves you over $100 on the standard retail cost if purchased separately. Customers can also purchase a pack of six which costs $142 and saves you over $66% off the retail cost.
Guarantee
In order for Research Verified to stand by their products, they offer their customers a one-year money back guarantee for all of their products. If for any reason you are unhappy with the product you can return it at any time and receive a full refund within a year. You can return both opened and unopened products and they you will be eligible for a refund. The manufacturer stands by their product as well as their customers. Many customer reviews stated that this product helped decrease the pain that comes with athlete's foot and gets rid of the problem for good.
Conclusion – Research Verified Athlete's Foot Killer Review
Research Verified Athlete's Foot Killer is one of the best products on the market of this type. It is difficult to compete with a manufacturer who stands by their product as much as they do. With their ingredients, it is definitely hard to beat.
The positive customer reviews are the biggest selling point of this product. Most of the consumers who purchased this product loved that this product was made with all-natural ingredients and did not irritate their skin. Many of the consumers liked the fact that there was a one-year guarantee and that if they were not satisfied they could simply return the product for a refund. Research Verified uses the highest quality ingredients for a highly effective product.
Top investigative research brought to you by the experts at Customer Review.