Research Verified CLA Review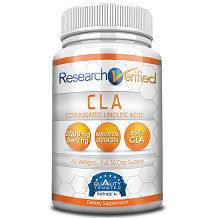 BEST PRODUCT
When it comes to being in the top 10 weight loss supplements, a vital ingredient to have is CLA (Conjugated Linoleic Acid) which Research Verified CLA has in spades. CLA helps the body develop leaner muscles while also speeding up the metabolism in order to burn fat quicker. This supplement is best used in conjunction with daily exercise as you will feel your body really burn through your stored body fat. This supplement is also known to help muscle retention that will allow your body to develop stronger muscles faster.
Ingredients
Research Verified CLA contains 2,000mg of CLA extracted from Safflower Oil which also makes this a natural and safe source of the bodybuilding compound. CLA helps create stronger muscles, lowers cholesterol, and boosts the body's immune system significantly.
Dosage
The recommended dose for Research Verified CLA is one softgel capsule two times per day. Take one softgel during a meal and another in the afternoon during dinner. It is important that you strictly follow the dosage stated on the label to prevent any health problems that may arise due to overdosing.
Possible Side Effects
CLA is normally safe to use and this is doubly true for Research Verified as it uses 100% natural ingredients. However, CLA may cause harm to those with existing health conditions such as diabetes. Pregnant women, nursing women, children and those who have a current health condition should avoid using this product as it can worsen their condition or cause damage to their body. It is best if you first consult with a doctor before using this supplement. It might also cause harm to those with bleeding disorders and metabolic syndromes. If you have any of these conditions then we suggest you avoid using CLA based products. As for side effects, there are a couple of mild ones to be aware of such as nausea, stomachache, and fatigue.
Price
One bottle of Research Verified CLA is priced at $48 and will give you 60 softgel capsules for a month's worth of supply. The product also comes with monthly supply package options for those looking for a maintenance weight loss supplement. The 3 month supply (3 bottles) is priced at $98 and the 6 month supply (6 bottles) is priced at $142.
Guarantee
This product comes with a 365-day money-back guarantee for customers who are dissatisfied with the results they are getting with this supplement. You can contact them through their official website to request a refund and you will be given the instructions to do so. Opened and unopened bottles are viable for return and you will only need to shoulder the delivery charge.
Conclusion – Research Verified CLA Review
Why should you choose Research Verified CLA? First off, it contains the exact amount of CLA to both be effective and safe. The company is also always on hand to answer any inquiries and values their customer's satisfaction and feedback. It is also quite affordable when compared to other CLA products out in the market and offers a fantastic guarantee to its customers.
Top investigative research brought to you by the experts at Customer Review.