StretchOff Advanced Stretch Mark Formula Review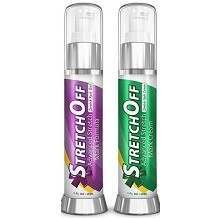 StretchOff is an ointment that aims to help you remove and lighten unsightly stretch marks in a quick and safe manner. It does this by assisting in rejuvenating skin and offering nourishment that will help soothe skin and return it to its healthy state. If you are currently having issues with stretch marks then this product might just be the product for you. Continue reading our full review below to learn more.
Ingredients
StretchOff is available in both gel and cream form. For the StretchOff gel, it contains a vastly different set of ingredients. These ingredients are stated below, as well as their uses:
Dimethicone – this is an anti-foaming agent which helps keep moisture level of the skin high.
Cyclomethicone – this compound helps promote skin rejuvenation.
Cyclopentasiloxane – this acts as a skin conditioner which keeps the skin looking smooth.
Dimethicone Crosspolymer – offers skin protection from pollution.
The StretchOff cream on the other hand will contain the following ingredients:
Aloe Vera Whole Leaf – it helps boost the skin's immunity from skin degenerating conditions.
Onion Bulb Extract – this is primarily used to treat acne scars.
Sunflower Seed Oil – this is another compound known for alleviating skin blemishes and acne.
Safflower Seed Oil – it contains properties that help retain the skin's moisture and prevent dryness.
Tocopheryl Acetate – this is a natural skin conditioning agent.
Jojoba Oil – this ingredient offers high moisturizing properties to the skin.
Polysorbate 80 – this is a well-known skin cleansing agent.
Allantoin – this is another powerful skin moisturizer.
Emu Oil – offers nourishment to the skin and maintains its moisture.
PEG-4 or PEG-200 – this is a common ingredient used in all types of skin and hair products.
Organic Rose Hip Seed Oil – this is rich in vitamins and antioxidants.
Immortelle Extract – helps rejuvenate damaged skin tissues.
Palmarosa Oil – this is an anti-bacterial compound.
De-oiled Soybean Lecitin – contains high levels of Vitamin E which can help delay skin aging.
Phenoxyethanol – acts as a preservative to cosmetic products. It is also used as a disinfectant, antiseptic and antibiotic.
Lavender Oil – assist in regenerating damaged skin cells.
Potassium Sorbate – this is a mild preservative commonly found in most skin care products.
Xantham Gum – this is an anti-aging compound.
Butylated Hydroxytoluene – it is a preservative used in cosmetic products and is also a known antioxidant.
Dosage
Using the StretchOff gel and cream is quite simple. Apply a thin layer of the gel or cream over the skin and massage it in a circular manner for a minute or so. Perform this three times per day for optimum results.
Possible Side Effects
StretchOff is safe to use with little to no risk of side effects. Both gel and cream form contains all natural ingredients that are designed to not only rejuvenate skin but also soothe any irritations one might have. If by chance you find some form of irritation upon use of this product then discontinue use and contact your doctor immediately.
Price
One bottle of StretchOff gel contains about 30 ml. of the solution. The cream variation also holds 30 ml. of the solution. One bottle is priced at $49.95. Discounts are available only if you choose the monthly supply options. The Beginner's Package will include two bottles at $34.95 each. The Advanced Package holds four bottles and will further drop the price to $27.95 each. Finally, the Top Selling Package which will include six bottles will put the price per bottle at $23.30.
Guarantee
This product is offered with a 60 day money back guarantee. This will be more than enough to find out its effectiveness as results will be visible within a month. This is a risk free guarantee for anyone who are still unsure about purchasing this product.
Conclusion – StretchOff Advanced Stretch Mark Formula Review
StretchOff will be a fine addition to your skin care inventory. It is a relatively safe skin ointment that has also been clinically proven to help lessen and remove stretch marks. It can also help in lightening skin blemishes and remove scars. You can also use this product to help prevent skin problems like acne as it doubles as a skin moisturizer.
Top investigative research brought to you by the experts at Customer Review.