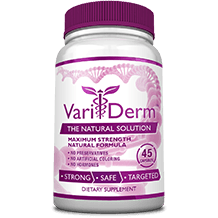 BEST PRODUCT
This is a product review of VariDerm varicose veins solution. This may be one of the best varicose vein treatment options we have researched and reviewed. This product promises to reduce the visible signs of varicose and spider veins within a few weeks. The treatment helps internally improve vein functionality by strengthening the veins and the blood flow, while also promoting cell regeneration to create healthier veins. Keep reading further to find out if this is the treatment that can help you.
Ingredients
Witch Hazel Leaf & Bark
Horse Chestnut Seed
Diosmin
Oat Straw
Bilberry
Mullien Leaf
Red Root
Niacin
Dosage
It is advised to take 2 capsules in the morning, 2 in the afternoon and 2 in the evening. You can take them with a meal or without. Or instead, you can choose to take 3 capsules in the morning and 3 capsules in the evening. If you receive the free cream with your purchase, it is to be applied directly to the affected area 2-3 times per day to help reduce swelling.
Possible Side Effects
With its safe natural ingredients, you should not experience any adverse side effects, or negative interactions with your other medications. However, it is always advised to consult your physician before taking any new supplement. It is also advised if you are pregnant or nursing to seek advice from your medical professional before consuming this product.
Price
The listed retail price for this product is $59.95 plus shipping fees for one bottle of 45 capsules. However, the company is running a limited time special price of $49.95 per bottle. The website also offers several other package deals when you purchase more than one bottle at a time. Their best money saving offer is to purchase 3 bottles, and get 3 bottles free for a discounted price of $139.70 plus shipping fees. With this larger purchase, you also receive a free tub of their VariCream product to add to the effectiveness of your varicose vein treatment. Depending on the severity of your varicose and spider veins, the company recommends a treatment plan of 4-6 bottles to fully treat them.
Guarantee
The company proudly offers a no risk, 60-day money back guarantee, which clearly shows their certainty this product will work for you. If at any time within 60 days of shipping date, you are unsatisfied, you may return any used, unused or empty bottles for a full refund minus shipping fees. Simply contact their customer service department with the number they provide you with and they will guide you through their easy return procedure. The product website had a large number of reviews from fully satisfied customers, which again, to us just reinforces the quality and effectiveness of this product.
Conclusion – VariDerm Review
Overall VariDerm varicose and spider vein treatment seems to be one of the best treatment options available on the market. Their special blend of natural ingredients ensures its effectiveness. The impressive customer reviews, security of their money back guarantee and the added bonus of your free cream gift should make your decision easy.
Top investigative research brought to you by the experts at Customer Review.