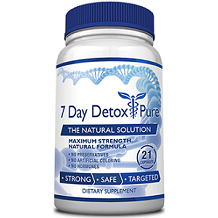 Detoxification is the process of removing toxins from your body. The major organs in the body will benefit from this most as these are what are negatively impacted by toxins. Organs such as the liver and stomach will then begin to work more effectively. Your immune system will also get a boost and you will have more energy and not suffer from uncomfortable bloating. This is also a great way to jump-start weight loss. As the benefits of detoxing have become more well-known, more and more manufacturers are developing products that claim to help you with this process. However, not all of these products will be effective and some may even be dangerous. This review will take a look at the product 7 Day Detox Pure to see where it stands regarding safety and efficiency.
Ingredients
This product contains a combination of 18 ingredients. They are:
Fennel Seed
Cascara Sagrada
Ginger Root
Rhubarb
Senna
Oat Bran
Citrus Pectin
Buckthorn Bark
Flaxseed Oil
Licorice Root
Cayenne Pepper
Goldenseal
Acai Powder
Acidophilus
Cape Aloe
Prune Juice
Cascara Sagrada is a well-known natural laxative as is Senna. Fennel seeds have a long history of being used for digestive issues. Ginger is well-known for reducing inflammation and also supporting digestive health. Rhubarb and oat bran are high in fiber which helps prevent constipation and improve digestive health. Pumpkin seeds and prune juice are packed full of nutrients and prune juice also works as a natural laxative. Aloe vera is well-known for its healing properties.
Dosage
The manufacturer recommends taking three capsules a day for a period of 7 days. For best results, take one capsule three times a day with meals.
Possible Side Effects
The ingredients in this product are all natural so side effects should be minimal. That said, it is very important to follow the dosage instructions of the manufacturer because ingredients such as cascara sagrada should not be taken for longer than 7 days at a time. Women who are nursing or pregnant and those taking any medications or who have underlying health conditions are recommended to speak to their doctor before using this product.
Price
You can easily buy this product online from the manufacturer or Amazon. The manufacturer offers various purchasing options which provide discounts to allow you to buy for the future and save. Their options are as follows:
One bottle will cost $49.95.
Two bottles will cost $69.90.
Four bottles will cost $99.80.
Six bottles will cost $139.70.
Guarantee
This manufacturer offers a 60-day money back guarantee in case you are unhappy with the results of this product. Unlike a lot of other manufacturers, you are able to return opened bottles as well as unopened bottles if you are not happy.
Conclusion of Our 7 Day Detox Pure Review
The ingredients plus the money-back guarantee make this a product worth trying. 7 Day Detox Pure only contains ingredients that have been proven beneficial for detoxing the body and improving digestive health. The product does not contain any binder, fillers, or preservatives and is manufactured in a lab that is cGMP certified so you are ensured a quality product. For these reasons, we would recommend this product.
Top investigative research brought to you by the experts at Customer Review.