Olay Eyes Ultimate Eye Cream Review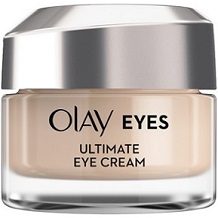 This is an in-depth review of Olay Eyes Ultimate Eye Cream. This product is formulated to fight dark circles, wrinkles, and puffy eyes. The manufacturer of the product claims that it will give users instant results on par with the best eye creams for half the price. We have assessed this bold claim by analyzing the quality of this product. The information we have outlined in this review will showcase whether this product can live up to this bold claim and if you should consider it for purchase.
Ingredients
Niacinamide
Palmitoyl Pentapeptide-4
Isopropyl
Dimethicone
Titanium Dioxide
C13-14 Isoparaffin
Glycerin is a common ingredient found in beauty products because of its ability to attract moisture to the skin. Niacinamide is commonly known as vitamin B3 and works to restore the skin. In doing so, it reduces fine lines as well as brightens the complexion. Palmitoyl Pentapeptide-4 supplies the body with essential amino acids which play a role in the production of collagen and elastin fibroblasts. Therefore, this ingredient works to reduce the appearance of wrinkles as well as firms the skin. Dimethicone is responsible for creating a hydrating barrier on the skin and, thus, retains moisture. Titanium Dioxide is used to prevent the harmful effects of UVB and UVA radiation on the skin. These ingredients are only a few of those mentioned by the manufacturer, however, they fail to stipulate which are active. This means that we are not certain as to which ingredients are actively working to benefit the skin. What is extremely concerning to note is that this formula contains C13-14 Isoparaffin and Isopropyl. C13-14 Isoparaffin is a thickening agent and Isopropyl is a defatting agent that can cause severe side effects. These ingredients are widely recognized as harmful and should be avoided when looking for an ideal eye cream.
Instructions
The manufacturer recommends that users apply this product in the morning and evening to cleansed skin. Massage a small amount around the eye area – under eyes, outer corners, eyelids – until it is absorbed. Avoid contact with the eyes. It is concerning to see that the manufacturer doesn't clarify the concentrations of ingredients used. Therefore, we cannot be sure of the strength of this formula.
Price
Potential customers can purchase this product online from the manufacturer for $29.99. It is hard to assess if this is an affordable price as the manufacturer does not stipulate how much product is contained in a tub. Also, purchases are not encouraged by bulk-buy deals or discounts. You may find more affordable deals elsewhere.
Guarantee
The manufacturer does not outrightly claim to offer a guarantee, however, further research indicates that they do have a 30-day return policy. Open products are not eligible for a refund which suggests that the manufacturer is not entirely confident in the effectiveness of this product. Another concerning factor is that there are a number of negative customer reviews on their website. Many customers have reported that this product is overpriced and does not deliver on manufacturer claims.
Conclusion of Our Olay Eyes Ultimate Eye Cream Review
This product contains certain appealing ingredients, however, includes harmful ingredients which hinder its ability to deliver ideal results. The price may seem affordable, but, it is not supported by cost-effective discounts or deals. There is a 30-day guarantee, although, it does not apply to partially used products which makes it unreliable at best. Finally, the many negative customer reviews suggest that this product is expensive and does not work. Therefore, we do not recommend Olay Eyes Ultimate Eye Cream.
Top investigative research brought to you by the experts at Customer Review.