Nature's Bounty Complete Menopause Support Complex Review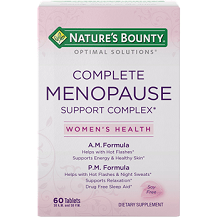 Complete Menopause Support Complex by Nature's Bounty is a product used for the relief of symptoms of menopause. It is one of similar feminine health supplements that employ a two-formula approach towards achieving this. Containing herbal extracts and nutrients, the supposed soy-free pill helps to deal with hot flashes and night sweats. It boosts energy and supports healthy skin while also serving as a sleep aid. We present to you a review of Complete Menopause Support Complex.
Ingredients
This supplement comes with an AM (morning) formula and a PM (night) formula. The ingredients contained in each of these formulas are listed below.
AM formula
Biotin – 300 mcg
Black Cohosh Root Extract (Cimicifuga racemosa) – 40 mg
Calcium (Dicalcium phosphate) – 68 mg
PM formula
Calcium – 52 mg
Hops flower extract (Humulus lupulus) – 10 mg
L-Theanine – 50 mg
Black Cohosh Root Extract – 40 mg
Melatonin – 30 mcg
A variety of other ingredients are also added to the mix. These include silica, natural palm leaf glaze, vegetable magnesium stearate and vegetable stearic acid.
Black cohosh extract helps to deal with hot flashes, night sweats, and other menopausal symptoms. Biotin boosts your energy and promotes the health of your skin, hair, and nails. The hormone melatonin facilitates relaxation and restful sleep. Valerian root extract and hops flower extract help to reduce stress and keep you relaxed.
Dosage
You are to take one AM tablet in the morning, after breakfast, and one PM pill before going to bed later in the day. The PM tablet should be taken close to bedtime – say, around 30 minutes prior to – because it induces drowsiness.
Possible Side Effects
This is a natural product and one would ordinarily assume it is free of side effects. But some of the ingredients used may lead to adverse reactions. These side effects include headaches, abdominal pain, and diarrhea. It is possible, though, that there may be no issue if used appropriately.
Nature's Bounty indicates that the product is not for nursing or pregnant women. It is also not for persons younger than 18 years old. You should consult a doctor prior to use if you are on medications or have existing medical conditions. A one-week break is advised after continuous usage for two months.
Price
Adult women can buy Complete Menopause Support Complex online or in stores. Prices may vary based on where you are buying from. The manufacturer provides a tool to find retailers and also lists the price for the different online retailers. The price seems to range from $12 to a little over $16.
Guarantee
It does not look like there is any money back guarantee for Complete Menopause Support Complex. One might say the price doesn't make that much of a problem, however, you should pay attention to the return policy of the store where you are purchasing the product.
Conclusion – Our Complete Menopause Support Complex Review
In all, this product is one you can try for the relief of your menopausal symptoms. Its two-formula approach makes it somewhat credible. The supplement also comes in at an affordable price point. However, there is no money back guarantee to back up this product. There are no reviews for this product on the manufacturer's website, despite there being space for them, and we also could not find many reviews elsewhere. This may indicate that this is not a widely used product.
Top investigative research brought to you by the experts at Customer Review.