NaturaNectar EaseFemin Review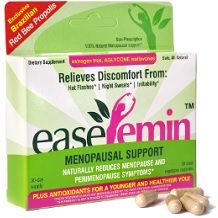 Today we review NaturaNectar EaseFemin. This calming blend of herbs will help you ease your menopause symptoms so you can sleep better and get back to your normal life. It also offers support for stronger bones to help ward off osteoporosis.
Ingredients
Vitamin D3
Calcium
EaseFemin proprietary calming blend
Fermented soy Aglycone
Isofactor
The EaseFemin proprietary blend contains herbs such as chamomile and valerian root. While these are great to help you sleep better, they will not stop the night sweats or other problems commonly associated with menopause. Without more ingredients to combat these specific issues, we are unsure that this supplement will help women in this age range.
Dosage
This formula comes in an easy, once a day formula. The directions state that you should take one capsule with a glass of water after your night meal. With all of the sleep inducing herbs, if you take this pill right after your evening meal, you will become extremely tired very fast and will need to go to bed earlier than usual. The manufacturer also states that it can take up to 4 weeks to actually see any improvement.
Possible Side Effects
This supplement contains ingredients from both soy and bees. If you are allergic to either, avoid taking this product. Additionally, as with any dietary supplement, you should consult with a physician before adding these capsules to your daily regimen, especially if you have a pre-existing condition.
Price
Each box comes with a 30-day supply of capsules and costs $30.99. While it is not listed how much shipping will cost, you can receive free shipping and an additional 15% savings by subscribing to their auto-shipment program. They have options to send more capsules once every 2 week or every 1, 2, or 3 months. It is important to be weary of these programs, as they save your credit card information and can be very difficult to cancel.
Guarantee
NaturaNectar does not offer a guarantee on its products. If you purchased the supplement through a third party seller, they claim they will try to help you with the return process, but you will be at the mercy of the refund policy of the third party seller. Additionally, if you made your purchase direct on their website, you can only send back unopened boxes of this supplement to be eligible for a refund. This shows the company does not fully stand behind their products, as there is no risk free way to try this supplement to see if it works.
Conclusion of Our NaturaNectar EaseFemin Review
There are a few things we liked about NaturaNectar EaseFemin. This supplement has Vitamin D and calcium to help support strong bones in a time when your bone density may be decreasing. Also, the dosing instructions are easy to follow, and you only need one capsule per day.
Unfortunately, we had many concerns in regards to this supplement. The main ingredients have plenty of sleep inducing herbs, but not as many ingredients to actually help reduce the symptoms associated with menopause. This supplement also has soy and bee ingredients, so you must not have an allergy to those things. Lastly, there is no guarantee at all offered for this supplement. If you find yourself unsatisfied with the results, you are unable to claim a refund for your unused product. For these reasons, we cannot recommend you take this supplement to help decrease the night sweats, hot flashes, and other menopause problems.
Top investigative research brought to you by the experts at Customer Review.