MENOstage Herbal Menopause Support Review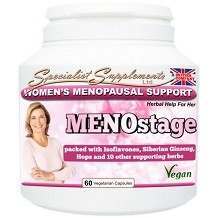 MENOstage Herbal Menopause Support is one of the products available in the market that helps women before, during and after Menopause which is one of the most critical stages in their lives. Unlike other products, MENOstage does not contain any hormones.
The manufacturer MENOstage suggests that you take this product along with their other products like their vitamins and weight-loss products.
Ingredients
These are the Ingredients found in this product :
Red Clover – which is used to fight hormonal balance
Wild Yam (from extract) – helps balance menstrual cycle
Sage Leaf (from extract) – manages hot flashes and night sweats
Vegetable cellulose capsule –
Pfaffia Powder – helps stabilize hormone levels
Schizandra Chinensis (from extract) –helps cardiovascular diseases
Hops (from extract) – good for hot flashes and night sweats.
Alfalfa (Medicado sativa) Powder – helps prevent menopause systems
Siberian Ginseng Powder – helps  insomnia and hot flashes
Soya Isoflavones (40%) – helps to fight hot flashes
Atriplex Halimus (from extract) – high in protein, Vitamins A, C and D and contains a number of minerals such as chromium.
Zinc Citrate Powder – taken together with copper, manganese and calcium as bones become brittle with aging.
Vitamin B6 (pyridoxine HCL) – 7mg
Kelp T 60 Powder (Ascophyllum Nodosum) – 5mg
The product doesn't contain any gluten, no wheat, no lactose, no added sugar, no additives and no artificial colorings or yeast. MENOstage Herbal  Menopause Support is good for vegetarians and vegans.
Dosage
You should take 1 capsule two or three times a day though they recommend a "higher dose" on the first 2-3 weeks. Then the recommended dosage is three capsules a day as maintenance.
Price
The cost of this product is £12.98. No pill amount per bottle information is available.
It is unknown if this product has any side effects or if it produces long-term results.
Guarantee
The product does not seem to provide any money back guarantee. This is something that should be considered when you are deciding whether or not to purchase this product. The fact that there is no mention of any guarantee, neither implied nor expressed, should be somewhat of a red flag. You may need to contact the seller of this product directly to clarify if there is a money back guarantee with this product and if so, how much time is given for you to try this product out to see if it does indeed work for you.
Conclusion for MENOstage Herbal Menopause Support Review
MENOstage may be one of the products in the market that is made of all natural ingredients but it does not come with a guarantee which almost wipes off any other good thing about the products. This is due to the manufacturer's failure to stand by their product. If they won't, why would any consumer feel inclined to buy it?
Top investigative research brought to you by the experts at Customer Review.