Premium Certified MenoMD Review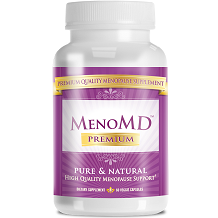 The following review is on MenoMD, a set of supplements specifically designed for day and night consumption to effectively relieve the uncomfortable symptoms of menopause which include hot flashes, night sweats, insomnia, mood swings, loss of libido, and vaginal dryness. The manufacturer is confident in this set of products ability to provide the body with optimal menopause support, providing unparalleled customer value when compared to other brands on the market.
Ingredients
As mentioned before, this product comes in dual-action separate day and night formulas where each formula is crafted for particular menopause relief.
MenoMD Day Formula
Rose Root
Black Cohosh
Chasteberry
Passionflower
Red Clover
Soy Lignans
Wild Yam
Soy Isoflavones
DIM (Diindolylmethane)
Boron
Protykin Extract
Vitamin E
Zinc
Black Cohosh has been clinically proven to reduce both the physical and mental symptoms of menopause without any side effects. Protykin is known to relieve hot flashes while the other ingredients are a synergistic blend that works together to support and stabilize mood, balance hormones, boost energy, increase sex drive, prevent osteoporosis as well as promote overall vitality and health.
MenoMD Night Formula
Valerian Root
Calcium
Hesperidin
Magnesium (as Magnesium Oxide)
Passion Flower
Ammonium Succinate
5-HTP Seed Extract
Potassium (as Potassium Citrate)
Glycine
This formula is designed to help promote a quality night of sleep. Valerian root, passion flower, magnesium and other key ingredients reduce anxiety and prevent insomnia; while Potassium, Ammonium Succinate and Hesperidin alleviate hot flashes. These ingredients are all-natural, 100% pure with no fillers or binders, vegan, and cruelty-free. These formulas have also undergone many quality assurance checks such as cGMP certifications and third-party testing.
Dosage
The manufacturer provides clear dosage instructions. For MenoMD Day, take one (1) capsule in the morning and one (1) capsule in the afternoon. For MenoMD Night, take one (1) capsule at nighttime. For best results, use as recommended and do not exceed dosage.
Possible Side Effects
There are no reported side effects as a result of using this product. MenoMD is 100% natural and pure product that has passed strict quality guidelines. As with all dietary changes; if you are pregnant or breastfeeding, under the age of 18, or have a pre-existing condition – be sure to consult your physician before use.
Price
To purchase the dual-action set of MenoMD, you can do so from the MenoMD web store. For a months supply of menopause support, you can buy a bottle of MenoMD Day (60 capsules) and MenoMD Night (30 capsules) for $80. There is also a variety of package offers available, such as the most popular 6 bottle set for $138 – saving you a substantial $270. These package options make this quality product affordable to sustain long-term use.
Guarantee
There is an extensive 90-day money-back guarantee offered by the manufacturer which showcases the confidence that Premium Certified has in their product. This policy is extended to customers who have opened their containers, which is an added bonus for cautious customers who are looking to test the efficacy of this product.
Conclusion of Our MenoMD Review
MenoMD is a dual-action supplement that has two formulas designed for specific relief of various menopausal symptoms. The ingredients are cGMP certified, vegan, all-natural, and have been thoroughly researched for the utmost efficacy and quality. The package offers allow the affordable maintenance of this product use and the manufacturer offers an extensive guarantee that gives customers peace of mind. All things considered; we highly recommend MenoMD.
Top investigative research brought to you by the experts at Customer Review.