Healthy Origins Green Coffee Bean Extract Review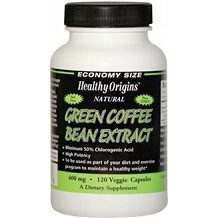 The makers of Healthy Origins Green Coffee Bean Extract point out that many people enjoy a cup of coffee (or more) during the day and many drink it just for the caffeine boost. But there is more to coffee than just helping a person stay alert. Coffee beans, especially green (ie. unroasted) coffee beans are high in acids and polyphenols that can be used by the body. In addition, of course, the manufacturer notes that green coffee beans contain Chlorogenic Acid (GGA) which also has purported health benefits (although they are not spelled out in detail on the product's website).
Ingredients
Green coffee bean extract – 400 mg per tablet (standardized to 50% CGA and 65% polyphenols)
Inactive ingredients
Vegetable capsules that are made from cellulose and water
Rice flour
Vegetable magnesium stearate
Although Healthy Origins doesn't say so, one assumes it is riding on the coat tails of its competitors that claim that CGA can help in weight loss and appetite suppression and that its antioxidants boost the immune system and help ward off diseases caused by free radicals.
Dosage
The manufacturer instructs users to take one capsule twice a day, each 30 minutes before a meal. This supplement should be used as part of a diet and exercise program for those that are looking to lose weight.
Possible Side Effects
This supplement contains caffeine so if you are sensitive to caffeine it should be used with caution. Dizziness or insomnia are infrequent but possible side effects and, if experienced as a result of taking this supplement, you should discontinue use. This product should not be used by children or by women who are pregnant or nursing.
Price
At the time of our review, you could buy a 60-count bottle from the manufacturer's website for $14.99. A quick check on Amazon showed a 120-count bottle for just a little more at $15.45.
Guarantee
We were unable to find any information on the manufacturer's website regarding a return/refund policy or other forms of guarantee. The company does provide a toll-free number for inquiries.
Conclusion of Our Healthy Origins Green Coffee Bean Extract Review
Healthy Origins Green Coffee Bean Extract doesn't do anything to stand out either for good or for bad in the crowded green coffee bean supplement marketplace. It does have a fairly attractive price point but that's about the greatest of its attributes. The lack of a company-backed return policy is always a concern for us attesting to the company's possible dearth of confidence in its product or missing infrastructure for customer service. The presence of rice flour as a filler in the list of ingredients (yes, the product website says there are no "hidden" fillers, meaning the company lists its use of fillers like rice flour in the ingredients) is another drawback for us. We would suggest looking for a green coffee bean product with a customer-friendly return policy (there are plenty out there) and a pure ingredient list.
Top investigative research brought to you by the experts at Customer Review.