Life Extension CoffeeGenic Green Coffee Extract Review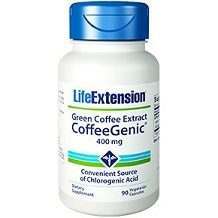 If you are someone who has attempted to moderate your post-meal blood glucose levels, you may have experienced the frustration that often accompanies this task. There is one product on the market today manufactured by Life Extension which claims to make this issue more manageable. The product is called CoffeeGenic Green Coffee Extract which is a dietary supplement that is designed to not only help regulate glucose spikes but actually to neutralize the glucagon release. The CoffeeGenic Green Coffee Extract inhibits after-meal glucose spikes. Read more details about our review on Life Extension CoffeeGenic Green Coffee Extract below.
Ingredients
Each capsule of CoffeeGenic Green Coffee Extract consists of 400mg of coffee bean extract which has 50% chlorogenic acid. Chlorogenic acid has been shown to have a significant effect on inhibiting excess activity of the enzyme glucose-6-phosphatase which has been found to trigger the formation of glucose from non-carbohydrate substrates that occur with post meal sugar hikes. This enzyme also causes glycogen to be released from the liver. 
Dosage
The recommended dosage for this product is one capsule before each heavy meal or as recommended by your physician. Considering that each capsule also contains 12mg of caffeine which is about the equivalent of 1/4 cup of green tea, this dosage appears to be more than reasonable. It is important to note though that there are no guidelines for how long this product should be used and in what sort of time frame one could expect to see the desired results.
Possible Side Effects
While the product would appear to be safe and free of any major side effects, warning labels are there for a reason and it is important to consider this information. The warning on the label for CoffeeGenic Green Coffee Extract is surprisingly basic. It states to keep out of the reach of children and to not to exceed the recommended dose. It also states that a woman should consult a physician if pregnant or nursing. 
Price
This product is available online through the Life Extension website and in retail stores. The regular price for CoffeeGenic Green Coffee Extract is $32. There is a special price listed of $24 which saves consumers 25%. For any orders of four or more bottles, the price drops down to $21 a bottle. As an added incentive to purchase in bulk, each multi-order of four or more bottles qualifies for free shipping.
Guarantee
This product does not come with a satisfaction guarantee. 
Conclusion of Our CoffeeGenic Green Coffee Extract Review
Firstly, the CoffeeGenic Green Coffee Extract is a product that has potential and could be helpful for individuals with glucose issues. This product provides consumers with some excellent savings that are available when purchasing online. However, our main concern after reviewing this product is the lack of any satisfaction guarantee.
Top investigative research brought to you by the experts at Customer Review.