NatureWise Green Coffee Bean Extract Review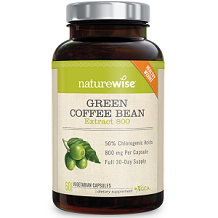 Green Coffee Bean extract is currently one of the most popular go-to supplements for weight loss. Unlike other botanicals, most people feel safer using something they're already familiar with, namely coffee. Green coffee is simply the coffee bean in its natural state before it has been roasted. When roasted, it turns brown. More importantly, it also loses most of its active chlorogenic acid compounds. These are the compounds which are most linked to weight loss through clinical research. Coffee beans are also loaded with antioxidants, and many scientists now believe that drinking 4 cups of even regular coffee per day can help you live longer. The effects of green coffee, therefore, go beyond weight loss.
The impact of chlorogenic acid is more definitive in animals than humans at this stage but besides inhibiting carbohydrate absorption and therefore regulating blood-sugar levels, these same compounds have also been shown to boost metabolism by between 3 and 12%. In animals, in a further plus for heart health, it has also been shown to reduce bad cholesterol.
Today we have Green Coffee Bean Extract by Nature Wise under the review spotlight.
Ingredients
NatureWise Proprietary Green Coffee Bean Extract 800 mg blend, containing 50% chlorogenic acids
Organic rice bran extract
Vegetable cellulose
NatureWise claims to be the leading brand of Green Coffee Bean Extract for weight loss. This may be, but other brands make similar claims and the company does not offer sales figures or other supporting statistics. The formulation is sound, with one capsule containing about the same amount of caffeine as one cup of decaf coffee, with antioxidant, metabolism-boosting and bad cholesterol-fighting agents without the shakiness that can be a side effect of roasted coffee.
Further, NatureWise says the trademarked active ingredient GCA (Green Coffee Antioxidant) has been successfully shown in a double-blind, placebo-controlled study to support weight and body fat decreases, and healthy weight management. It is important to bear in mind that if this study has been sponsored – as many are – there are often enhanced outcomes as a result. However, as stated upfront, independent clinical trials have, at this stage, also linked green coffee to weight loss.
Dosage
Take 1 capsule 30 minutes twice daily, before meals if you're an adult.
Possible Side Effects
Consult your doctor if you are breastfeeding, pregnant or on other medication, especially thyroid medication or metabolism boosters. Note that one pill gives you the same amount of caffeine as one cup. An overdose could leave you jittery and unable to sleep.
Price
One bottle of 60 capsules retails for $30.50 on the product website.
Guarantee
The returns policy is formulated thus: If you're not satisfied with your purchase for any reason, you may return it at any time for a full refund. We have researched many returns policies and this is a broadly formulated one, which may or may not have loopholes when you try to enforce it. For starters, the policy as worded applies in perpetuity as there is no time limit in which to initiate the return. In reality, this would be unlikely. It is also not clear if you can only return unopened or partially used products as well.
Conclusion of our NatureWise Green Coffee Bean Extract Review
We agree with the manufacturer that the patented GCA (Green Coffee Antioxidant) formula is a natural, decaffeinated extract of unroasted green coffee beans, high in antioxidant chlorogenic acids. These compounds have been linked to lowered body fat percentage and weight and increased heart health. Blood-sugar levels have also been shown to be more stabilized.
The price of these capsules is higher than some others, which contain a higher concentration – in fact, double – the amount of chlorogenic acid. We are also not convinced that the product is entirely risk-free, as the refund policy is too broad to be taken at face value. The product is allergen- and preservative free so if you're willing to look beyond the above caveats, you could test this product and possibly expect moderate results. It is not a quick-fix and weight loss also involves changing bad dietary habits and exercising more.
Top investigative research brought to you by the experts at Customer Review.