AlSport Nutrition Green Coffee Bean Extract Review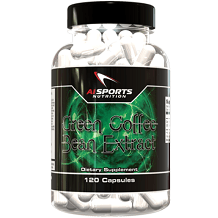 When a person is looking to get into shape there are many supplements that may be of assistance. AISport Nutrition offers its Green Coffee Bean Extract with the claim it will help give your metabolism the boost it needs enabling the body to go into fat burning mode and burn off extra fat. It is also said to help stabilize blood sugar levels, reducing feelings of hunger and helping prevent the body from that periodic "crashing" that comes when the blood sugar dips. To get the full details on AISport Nutrition's Green Coffee Bean Extract, read our full review below.
Ingredients
AISport Nutrition's Green Coffee Bean Extract is made of course from the extract of green coffee beans, 350 mg of it to be exact per capsule.
Inactive ingredients include
rice flour
magnesium state
titanium dioxide
Dosage
The manufacturer recommends taking one capsule between one and three times a day. The best time to take this supplement 30 minutes before a meal. These are rather vague dosage instructions.
Possible Side Effects
There are some possible side effects of using this supplement. During first use, you may have some trouble sleeping. It is best not to take this supplement close to bedtime if you experience this problem. This supplement is also not recommended for use by anyone under the age of 18.
Price
This supplement is very affordable, almost absurdly so. You can purchase 120 capsules which, depending on the dosage you choose, is anywhere from a 40 to 120 day supply for as little as $5.00. For example, at the time of our review, a two-bottle pack was available on Amazon for $9.67.
Guarantee
We were unable to find a money back guarantee from the manufacturer. Given the low price, this may not be all that big a drawback as the financial risk involved in trying the product is not great.
Conclusion of Our AlSport Nutrition Green Coffee Bean Extract Review
AlSport Nutrition's Green Coffee bean extract is said to be able to help a person lose weight and improve their health while no longer being affected energy "crashes". The product had received too few customer reviews, at the time of our review, for us to get a sense of its effectiveness in real-world application. But we are concerned that generally you get what you pay for and this supplement is being sold well under average market pricing for green coffee extract supplements. It's possible it could work for some and, really, the low cost certainly makes it tempting to give it a try. But we can't deny the little voice that tells us that if something looks too good to be true, it often is just that. We would suggest finding a product with an actual return policy and to invest a little more, cost-wise, in your health, relying on that return/refund policy to reduce the financial risk.
Top investigative research brought to you by the experts at Customer Review.