Green Coffee Bean Extract Review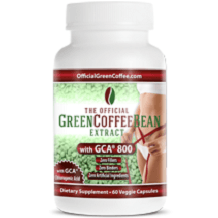 Many people are looking to lose weight but they are not sure how. A supplement with the name Official Green Coffee Bean Extract is said to help the body burn off extra fat and, according to the manufacturer, will do so quickly. This extract is said to be able to remove fat cells, helping you to drop extra pounds quickly. It is also claimed to change the way that the body absorbs and digests glucose without causing spikes or drops in blood sugar levels. It is claimed to help speed up the metabolism and all of these processes should provide you with additional energy. Quite a claims list. Read our Official Green Coffee Bean Extract review below to learn more about this supplement.
Ingredients
There are only two ingredients in this supplement: 800 mg of green coffee bean extract
and a vegetable cellulose capsule.
As noted above, coffee bean extract is said to help with weight loss.
Dosage
The manufacturer recommends taking two capsules a day and suggests that within a couple of weeks they will see the effects that this supplement has on weight loss. The amount of caffeine found in each capsule is less than half a cup of coffee.
Possible Side Effects
This supplement is meant to be used by those over the age of 18 and is not recommended for women who are pregnant or nursing. As always, one should not exceed the recommended dosage. Some people may experience a sensation of jitteriness. This will go away as the body gets used to the caffeine.
Price
At the time of our review you could purchase Official Green Coffee Bean Extract from the manufacturer's website for $59 a one month supply
Guarantee
This product comes with a 30-day money back guarantee. If you are not happy with the results you can send the unused portion back and get a full refund. The 30-day time limit is quite restrictive for a product of this type. While the manufacturer suggests results can be seen in as little as two weeks, it may take longer for some.
Conclusion of our Official Green Coffee Extract Review
Official Green Coffee Bean Extract is said to be made according to GMP standards in an FDA registered lab. This should mean the quality of the ingredients and the production process are of good quality. However, this supplement has a number of drawbacks which make us unable to recommend it. It is overpriced compared to competitors' offerings comes with a less than comprehensive return/refund policy, requiring unused product to be returned within only 30 days of purchase. We would suggest looking for a less expensive green coffee bean product with a more customer-centric return policy.
Top investigative research brought to you by the experts at Customer Review.