Puritan's Pride Green Coffee Bean Extract Review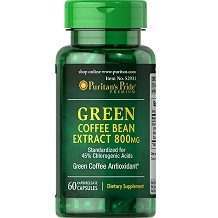 Puritan's Pride Green Coffee Bean Extract does not, like some weight-loss supplements, shout out its attributes on the product web page. In fact, the prospective customer isn't really able to learn all that much about the product at all. The manufacturer points out in small font that its 800 mg of green coffee bean extract contains antioxidant properties and clicking the "learn more" button did not provide any additional information at the time of this review. Undaunted, we pressed on to find bring you as many details as we could regarding this product which, ostensibly, positions itself to help one lose weight and to counteract the effects of free radicals through its antioxidant attributes. Read our review below to see what else we were able to dig up.
Ingredients
Green Coffee Bean Extract – 800 mg (standardized to 45%, providing 360 mg of CGA)
Inactive ingredients:
Gelatin
Vegetable Cellulose
Dicalcium phosphate
Vegetable Magnesium state
As noted, many products whose primary ingredient is green coffee bean extract claim they enable and enhance weight loss. Green coffee beans are, indeed, said to be brimming with antioxidants, which may help strengthen the immune system and help resist disease and symptoms of aging.
Dosage
The recommended dosage is one capsule once a day, taken with a meal.
Possible Side Effects
There are no reported side effects from the use of this product. However, it should not be used by pregnant or nursing women and, similarly, by those under the age of 18. Anyone taking medication should consult their doctor before using this supplement.
Price
At the time of our review, this product was out of stock on both the manufacturer's website as well as on Amazon. As a result, no pricing information was displayed on either site. We did find a 60-capsule bottle on sale on eBay for $13.60.
Guarantee
Puritan's Pride Green Coffee Bean Extract comes with a money-back guarantee. If you're not satisfied with the product you can return it for a refund.
Conclusion of Puritan's Pride Green Coffee Bean Extract Review
As noted at the top, Puritan's Pride Green Coffee Bean Extract plays things close to the chest when it comes to its attributes. And, at the time of our review, even its pricing was hard to find. What we can say with confidence is that its 800 mg formula, at a 45% concentration, contains only 360 mg of Chlorogenic Acid (CGA). Combined with the recommended dosage of one tablet a day, this does not amount to a high level of active ingredient. Perhaps if you only need a small push forward in your weight loss endeavor this product could be of help. We like the fact that there is a company-backed return policy as well.
The drawbacks, as a result of our research, are clear. Most importantly, if you are going to rely on this product to help with your health program over time, there may be a problem given that it seems it goes out of stock, even on the manufacturer's website. In addition, the lack of product information on that website also bespeaks a company that is "keeping its head down". yes, it's always good to underpromise and overperform, but that requires at least promising something.
Top investigative research brought to you by the experts at Customer Review.