Moringapharm Pure Moringa Leaf Review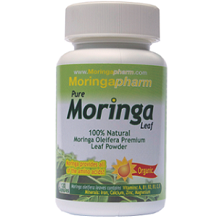 Today we review Moringapharm Pure Moringa Leaf. This organic supplement offers 100% moringa powder. This powder provide all of your daily needed amino acids to help support a healthier diet.
Ingredients
This supplement contains 100% pure, organic moringa leaf. Unfortunately, there is no amount listed to show how much of this nutrient is in each capsule. This information is essential to know how effective this product will be. Clinical research shows that you need 1600 mg of moringa powder daily to see optimal results. It is unusual for a dietary supplement to not list exactly how much of their main ingredient is included in each capsule.
Dosage
The manufacturer recommends taking two capsules, twice per day. The doses should be spread out throughout the day, one in the morning and the other in the evening. Unfortunately, without knowing exactly how much moringa powder is in each capsule, we are unable to properly evaluate whether or not this is an effective dose.
Possible Side Effects
The manufacturer's list no side effects on their website. Through our research, we do know that too high of a dose of moringa could cause stomach upset. As we are unaware of the true dosing of this product, we do not know if you are at risk for this type of side effect by taking this supplement or not.
Price
Each bottle comes with 120 capsules, which should last for one month. The manufacturer's suggested retail price for one bottle is $43.00, but is currently on sale for just $38.90. Additionally they offer free shipping on all orders plus a large amount of bulk discounts. The smallest bulk discount available is buying 3 bottles at a time for only $99 total, while the largest discount available is to purchase 12 bottles of this supplement for $300, which comes to only $25 per bottle.
Guarantee
After a thorough search of this product's website, we found no information about either a money back guarantee or a refund policy. If you find yourself unhappy with this product, you may be stuck with no chance of being able to claim a refund for your unwanted product. This shows that the company does not fully stand behind their products.
Conclusion of Our Moringapharm Pure Moringa Leaf Review
There are a few things we liked about Moringapharm Pure Moringa Leaf. The moringa they chose to use is certified organic. There are also plenty of money saving discounts for the purchase of this product.
We did, however, have many problems with this product. There is no amount of moringa actually listed anywhere on this product. This makes it near impossible to figure out how effective this supplement will be. Next, the manufacturer claimed that there are no side effects for this product, even though we know stomach pains are a potential problem for some. Lastly, there was no refund policy or money back guarantee listed. For these reasons, we cannot recommend this supplement to help you get the amino acids you need and keep your diet more balanced.
Top investigative research brought to you by the experts at Customer Review.