Futurebiotics Moringa Review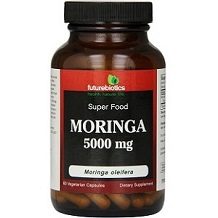 The subject of our product review today is a supplement called Futurebiotics Moringa. This manufacturer claims that their product is derived from pure Moringa oleifera leaves; and that this substance not only provides most nutritional needs but can limit appetite and promote weight loss.
Ingredients
Moringa (leaf) (Moringa oleifera) (from 100 mg 50:1 extract) (5000mg)
Other ingredients:
microcrystalline cellulose
modified cellulose (vegetarian capsule)
vegetable stearate
silica
Moringa leaf provides minerals and vitamins sufficient for daily nutritional needs. Moringa is packed with more calcium than milk, more vitamin C than oranges, more beta-carotene than carrots, and more protein than eggs or yogurt. Additionally, Moringa is high in iron, potassium, zinc, kaempferol, quercetin, magnesium, rhamnetin, vitamin E and B-complex vitamins. Moringa leaves can provide most of the minerals and vitamins the body needs. Moringa leaf extract is also capable of protecting against free radicals, thereby defending body cells, while also mending and renewing tissues. Other health benefits include: weight loss, lower serum cholesterol, reducing of atherosclerotic plaque, control of blood-sugar levels, prevention and management of diabetes; helping with certain arthritic complaints such as rheumatoid arthritis, psoriasis, and scleroderma, by reducing the swelling and pain; helping to detoxify the kidneys, and tackling over-active thyroid problems.
Dosage
Take one capsule daily. It is not stated whether you should take the capsule with food or water, nor does it specify if there is a preferred time of day to take the capsules.
Possible Side Effects
Consult your physician before using. Do not use if you are pregnant or nursing.
Price
You can purchase a 60-capsule bottle directly from the manufacturer's website for $17.95. The manufacturer does not offer any incentives for new customers nor discounts for bulk buyers. Standard shipping is $4.95 per order or free if you spend $49 or more.
Guarantee
The manufacturer offers a generous year-long 100% satisfaction money-back guarantee on this product. Unclear if it includes opened bottles or not.
Conclusion of Our Futurebiotics Moringa Review
We found a number of encouraging features to Futurebiotics Moringa. It contains a sufficiently high concentration of 5000mg of Moringa per serving. The manufacturer offers a generous year long money-back guarantee. The product is well priced at $17.95 for a two month supply of 60 capsules when taking one capsule per day. Shipping is free if spend $49 or more. The capsules contains no added yeast, sugar, salt, starch, soy, wheat, gluten, dairy, artificial colors, preservatives or animal products. We do have some less positive comments to add however. The manufacturer does not offer any incentives for new customers nor discounts for bulk buyers. Shipping is extra but not specified. There is a lack of information regarding possible side effects on the company website. It is unclear if the guarantee allows you to return opened bottles of capsules. There is no assurance from the manufacturer that this product is made in an FDA certified facility, that it is free from fillers and binders, that it is vegetarian friendly, or if it uses non GMO ingredients. For all these reasons we are unable to recommend this Moringa product. We suggest that you seek out Moringa supplement that includes bulk buying discounts, and a broad spectrum of customer reviews.
Top investigative research brought to you by the experts at Customer Review.