Hedron Life Source Premium Forskolin Ultra Trim Review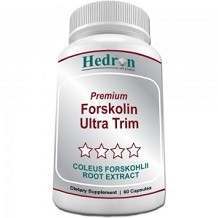 Hedron Life Source Premium Forskolin Ultra Trim is an herbal weight loss supplement that claims to offer a natural way of increasing metabolism and burning fat, as well as suppressing appetites. It is also specifically formulated for people over the age of 35 whose metabolism may have plateaued making it harder to melt away fat.
Ingredients
Since not all Forskolin supplements are made the same, it's important that we take a look at what each one actually contains. Let's take a closer look at Hedron Life Source Premium Forskolin's ingredients.
Each capsule contains:
250mg Coleus forskohlii root extract (standardized to 20% Forskolin)
Vegetable cellulose capsule
The only thing listed is its active ingredient which is Coleus forskohlii root extract. Its Forskolin content is also relatively high at 250mg standardized to 20% which translates to 50mg of actual Forskolin extract in every capsule. Compared to other Forskolin supplements that contain additives and fillers, this one is a quality Forskolin supplement in its purest form.
Dosage
Hedron Life Source recommends taking two Forskolin capsules a day to jump start your weight loss. After taking Hedron Life Source Premium Forskolin Ultra Trim for a while, you can take it down to one capsule a day. Each dose should be taken approximately 30 minutes prior to eating.
Side Effects
So far, no adverse side effects have been associated with the use of Forskolin supplements. Hedron Life Source does not list any possible side effects on its product page either, so we can assume that this product is safe to use provided you do not exceed the recommended dose.
Price
Hedron Life Source Premium Forskolin Ultra Trim has a list price of $69.99 for a bottle of 60 capsules. At the time of this writing, it can be found on Amazon at a sale price of $46.99. This is a bit more expensive compared to other Forskolin products on the market today, but is certainly not the most expensive one you can find.
Guarantee
There is no information from the manufacturer regarding a money back guarantee or any kind of return policy. In case you need to return the product, you'll have to contend with your retailer's own return policy.
Conclusion of Hedron Life Source Premium Forskolin Ultra Trim Review
Hedron Life Source Premium Forskolin Ultra Trim looks like a good product based on its high Forskolin content and the purity of its ingredients. However, this comes at a significantly higher price compared to other Forskolin supplements in the market right now.
The fact that it's made in the USA in an FDA-registered facility doesn't justify the high price since other Forskolin supplements are able to offer the same for a much lower price. Other manufacturers even accept returns for bottles you've already opened in case you don't see any significant weight loss or are not satisfied with their products for any reason.
So considering Hedron Life Source Premium Forskolin Ultra Trim's high cost per bottle and lack of a money back guarantee, it's clear that it's not the best value for your money.
Top investigative research brought to you by the experts at Customer Review.