Thrive Naturals Forskolin Advanced Review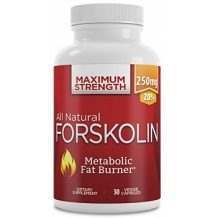 Forskolin Advanced according to the manufacturer, Thrive Naturals, is a weight loss supplement made from 100% pure and natural ingredients. This supplement is also said to contain no artificial ingredients, no binders or fillers. Is this product the solution to your weight problems? Read our Forskolin Advanced review below and get all the information you need to help you find make the right decision.
Ingredients
Forskolin (Coleus  Forskohlii root Extract ) (Standardized 20% (50mg) forskolin ) – 250mg
Vegetable Cellulose (Veggie Cap)
According to research shared by the manufacturer's website, Coleus Forskohlii has favorably altered body fat composition while concurrently increasing bone mass and serum free testosterone levels in overweight and obese men who took 250 mg of 10% forskolin extract twice a day for a 12-week period. However, research studies on the active ingredient's effectiveness are few and there have been some contradicting results.
Dosage
There seems to be two contradicting points when it comes to the product's dosage. The product's website claims that this supplement should be taken once  a day, however according to the product's own label, the suggested dosage is one capsule twice a day, with a glass of water, 30 minutes before a meal.
Possible Side Effects
According to the product's label, this supplement should not be taken by pregnant and lactating women or children under the age of 18.  The product's website claims that this supplement is safe, however with zero customer reviews on Amazon and other websites, it is very hard to tell if this product really has no side effects.
Price
One bottle, which would last for 30 days if following the one-capsule-a-day dosage, is available via the product's website for $43.95. You can also save and receive free shipping if you purchase multiple items: 3 bottles of Forskolin Advance can be purchased for $39.65 per bottle while six bottles can be bought for $37.32 per bottle. At the time of writing, this product was not available at Amazon.
Guarantee
This supplement comes with a good one year money-back guarantee. To return or have the product exchanged, call their customer service hotline.  Opened product may only be returned as if adequate time has passed to consume the product as directed on the label.
Conclusion of Our Forskolin Advanced Review
Forskolin Advanced seems to contain the dosage needed for it to be effective and the manufacturer's website gives discounts to those who are willing to buy multiple products. That being said, the single bottle cost is still relatively high and the product has yet to receive a single customer review on Amazon. There aren't even any reviews on the product website. Finally, the discrepancy in dosage instructions might leave some people confused and does not boost our confidence in this product.
Top investigative research brought to you by the experts at Customer Review.