Health Plus Prime Forskolin Review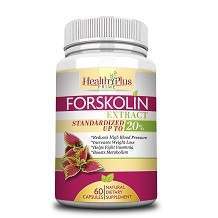 Forskolin is rapidly becoming a popular alternative therapy for weight loss. Dietary supplements that use Forskolin contain root extracts from the Coleus forskohlii plant, also known as Indian Coleus, which are found in subtropical parts of the world like India and Thailand. It has also been traditionally used as an herbal medicine for many generations.
In a recent clinical study of 30 overweight men, Forskolin proved to be highly effective at lowering body fat, and to some extent, building lean body mass. These positive results occurred over a relatively short period of 12 weeks.
Health Plus Prime Forskolin Extract is just one of many Forskolin-based weight loss supplements. Aside from aiding weight loss, this particular product also claims to reduce high blood pressure, boost metabolism and help fight insomnia.
Ingredients
Not all Forskolin products are created equal. Some contain a low concentration of Forskolin extract, which makes it less potent. Some lower quality supplements also contain fillers, binders and other unnecessary additives. Let's take a look at what Health Plus Prime Forskolin Extract offers.
Each veggie capsule contains:
250mg Forskolin Blend (standardized to 20% of Forskolin)
Rice Flour
Vegetable Cellulose
Health Plus Prime's Forskolin capsules have a relatively high concentration of Colueus forskohlii root extract since its 250mg of Forskolin extract is standardized to 20% which translates to approximately 50mg of actual Forskolin per capsule. The rice flour serves as a filler or binder and does not offer any health benefits.
Dosage
Health Plus Prime suggests taking one veggie capsule before eating a meal. It also recommends a dose of two capsules a day for best results.
Side Effects
Forskolin itself does not pose any risk of side effects. Likewise, Health Plus Prime's Forskolin Extract doesn't warn of any harmful side effects provided one does not exceed the manufacturer's recommended dose.
Pregnant women, nursing mothers, persons under 18 and those diagnosed with medical conditions are still advised to consult their doctors prior to trying out any dietary supplement.
Price
A bottle of Health Plus Prime Forskolin Extract, which contains 60 veggie capsules, has a list price of $49.99. It can also be found on sale for as low as $21.97 from various online retailers. One bottle should last up to one month following the manufacturer's recommended dose.
Guarantee
According to the Health Plus Prime website, it offers a 100% money back guarantee in case you are not satisfied with its products' results. However, we weren't able to find any details as to how long the guarantee is good for.
Conclusion of Health Plus Prime Forskolin Review
Health Plus Prime Forskolin Extract certainly looks like an attractive weight loss product with its high Forskolin content and low price. However, the manufacturer's money back guarantee is unclear and lacks specific details.
If you don't like taking chances with your money, other manufacturers also offer quality Forskolin supplements that come with a solid guarantee that's good for a few months, which gives you some assurance that you'll actually be able to lose weight with their product.
Top investigative research brought to you by the experts at Customer Review.