LiveWell Labs Pure Forskolin Extract Review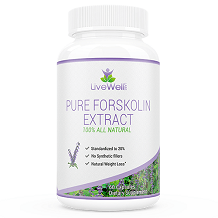 This review of LiveWell Labs Pure Forskolin Extract looks at the product in detail to help you make an informed buying decision. In the nearly endless marketplace of Forskolin weight loss supplements, LiveWell Labs seems to want to distinguish itself with a definite soft-sell approach. The only indication anywhere on the product website that this supplement aims at helping you lose weight is the small print on the bottle label which says "Natural Weight Loss".
Ingredients
LiveWell Labs Pure Forskolin Extract contains standardized Forskolin at 20% which is derived from Coleus Forskholii plant roots. The supplement is made with an all-natural, fast-dissolving veggie capsule and contains no synthetic ingredients. The product is made in the USA.
Dosage
For best results take one capsule, 30-60 minutes before breakfast and dinner with a full glass of water.
Possible Side Effects
There are no side effects noted on the product website. According to our thorough research, Forskolin is not recommended for pregnant women and people with low blood pressure. And, as with any supplement, it is wise to discuss it with your physician before taking it.
Price
At the time we researched this review a single bottle with 60 capsules (a month's supply) was available on the manufacturer's website for $44.95. You could also buy three bottles at a discounted cost of $39.98 per bottle or a six-bottle half year supply for $37.49; the latter two included free shipping.
Guarantee
LiveWell Labs provides a 365-day money-back guarantee. However, there is no indication of whether the company accepts back opened bottles for refund. It would be worth contacting the company (which offers a toll-free customer service line) to clarify before buying.
Conclusion of Our LiveWell Labs Pure Forskolin Extract Review
In a marketplace full of big, bold and (perhaps) overstated claims of all the amazing things a given Forskolin supplement will do for you, LiveWell Labs is a "quiet" alternative. While it does seem to contain the market-standard and generally accepted quantity of the active ingredient, its lack of claims of the benefits of its offering is somewhat concerning. In a similar vein the lack of detail regarding what could be an appealing return/refund policy is not ideal. Finally, it comes in at the higher end of the pricing spectrum for Forskolin supplements.
Top investigative research brought to you by the experts at Customer Review.