Vitality Max Labs Pure Forskolin Review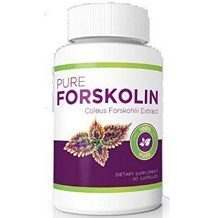 This Vitality Max Labs 100% Pure Forskolin Maximum Strength review examines the ability of this burning formula to boost your metabolism while breaking down stubborn fat cells to give you a leaner, healthy body.
The formula increases your metabolism while burning fat faster. Pure Forskolin activates the adenylate cyclase enzyme in your body which increases the levels of cAMP. This then affects the thyroid to increase your metabolism which will burn body fat, especially in the stomach, hips, and buttocks.
Ingredients
This supplement only contains one ingredient which is 125mg of Forskolin extract. This extract activates the enzyme in the body called adenylate cyclase. This reaction causes the thyroid hormones to raise the level of metabolism, hence burning body fat.
Other ingredients include rice flour and gelatin. Vitality Max Pure Forskolin is made in an FDA-approved lab and is GMP certified.
Dosage
As a dietary supplement, you are supposed to take one capsule twice a day. For the best results, you are supposed to take each capsule 20-30 minutes before a meal with an 8-ounce glass of water or as prescribed by a medical doctor. The dosage is quite low for a Forskolin product, and there are other products on the market with higher daily servings.
Possible Side Effects
You should not exceed the recommended dosage. Pregnant and nursing women, individuals with a known medical situation and children below 18 years old should seek a physician's advice before taking Vitality Max Labs Pure Forskolin Maximum Strength.
Price
You can buy this product online from Jet. The starting price is $12.49, but you can pay $12.45 if you opt out of free returns. This means that if you want to return the product, you will have to pay a return fee. You can also pay less if you buy with a debit card. It is possible to also buy in bulk and save. You can buy two bottles for $11.87 each, three bottles for $11.66 each, and four bottles for $11.55. It is possible to buy up to 10 bottles and save.
Guarantee
If you buy this product from Jet, you have 30 days to return the product. However, if you opted out of free returns when buying the product, then you will have to pay a fee to return the product. A product needs to be returned in its original condition including tags and packaging.
Conclusion of Our Vitality Max Labs Pure Forskolin Maximum Strength Review
Pure Forskolin has positive reviews where people say that the supplement actually helped them lose weight. The formula contains Forskolin (Coleus Forskohlii) which is a proven solution for weight management. It is GMP certified, so you should also be guaranteed a safe product. However, this product contains a lower quantity of Forskolin extract which may affect the effectiveness of this formula. It also contains a low percentage of Forskolin.
The guarantee for this product is pretty limited, if you only have 30 days to try the product, yet also have to return the product in its original packaging to receive a refund. We think there are other products on the market which come with a higher potency and also a better money-back guarantee.
Top investigative research brought to you by the experts at Customer Review.