Living Fully Herbed Forskolin Review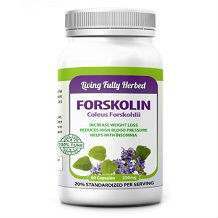 Living Fully Herbed Forskolin is an herbal supplement that claims to offer many health benefits such as weight loss and reduced blood pressure. It can also be used to help treat insomnia.
Forskolin supplements have been very popular lately with many experts claiming that it can increase one's metabolism which will help you burn fat quicker. These claims are backed by clinical studies which have shown that Forskolin can help decrease body fat in overweight individuals, and to some extent even increase lean body mass.
But with the huge number of Forskolin supplements in the market, it can be hard to tell which ones are worth the money. So let's take a closer look at what Living Fully Herbed really has to offer.
Ingredients
Before deciding to buy any kind of supplement, it's best to check what ingredients it uses.
Each capsule of Living Fully Herbed Forskolin contains:
250mg Coleus forskohlii root extract (standardized to 20%)
Vegetable Cellulose
Compared to other Forskolin supplements, Living Fully Herbed Forskolin has a respectable amount of Forskolin root extract at 250mg. Considering that the extract is standardized to 20%, this would mean that each capsule packs up to 50mg of usable Forskolin. Living Fully Herbed doesn't list any other ingredients, unlike other manufacturers that may pack their supplements with unnecessary fillers, binders or additives.
Dosage
Living Fully Herbed recommends taking one capsule twice a day approximately 30 minutes prior to eating your regular meals.
Side Effects
There are no harmful side effects associated with the use of Forskolin. The manufacturer also doesn't list any possibility of side effects from using its Forskolin supplement.
Living Fully Herbed does caution users not to exceed the recommended dose of two capsules a day. And like other dietary supplements and medications, pregnant women, nursing mothers, minors below 18 years of age and individuals diagnosed with medical conditions are advised to check with their doctor first before trying out the product.
Price
The Living Fully Herbed website does not list prices for its Forskolin supplement. If you click the link to order from the website, it redirects to an Amazon listing which marks it as 'Currently Unavailable', which means that the product is out of stock.
Guarantee
Living Fully Herbed does not offer a money back guarantee or any information about its return policy. If you are able to purchase the product from a retailer, we suggest checking their return policy if you want to get a refund.
Conclusion of Living Fully Herbed Forskolin Review
Living Fully Herbed Forskolin offers a good amount of Forskolin extract in every capsule. However, its availability is a major concern.
If you want a Forskolin supplement that really works, then there are tons of alternatives out there. This product does not even ensure its credibility with a guarantee.
Top investigative research brought to you by the experts at Customer Review.