Earths Design Forskolin Extract Review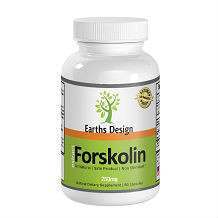 Earths Design Forskolin Extract is described as an all-natural and non-stimulant dietary supplement that is designed to melt away belly fat. It also claims many other health benefits such as reducing high blood pressure, blood clots and bladder infections, as well as treating insomnia. Earth Designs' website advertises that this is a 'Top Selling Forskolin Extract', and that it works great with the company's own Garcinia Cambogia supplement.
Ingredients
With so many Forskolin supplements currently in the market, it's important to know how much Forskolin content you're actually getting for your money. And despite many supplements claiming to be all-natural and pure, some actually contain non-essential fillers, binders and other additives. Most of these additional ingredients don't really have any positive or negative health benefits.
Each Earths Design Forskolin Extract capsule contains:
250mg Coleus forskohlii extract
Vegetable cellulose
The manufacturer does not list how much standardized Forskolin its capsules contain on its product label. After taking a closer look at its website, it does state that it is standardized to 20%, which means that each capsule contains roughly 50mg of pure Forskolin. Based on its ingredient list, this product seems to be free of any kind of fillers and binders.
Dosage
Earth Designs recommends a dose of two Forskolin capsules a day for those who wish to use the product for weight loss. The product should be taken approximately 30 minutes before eating your regular meal. It does not state whether the two capsule dose should be taken at the same time or spread between meals, though other Forskolin supplements recommend the latter.
Side Effects
There are no known side effects from Forskolin. Earth Designs also does not list any side effects for its Forskolin supplement. The manufacturer still advises that users stick to the recommended dose. Pregnant women, nursing mothers, people with medical conditions and those under the age of 18 should consult with their doctor before taking any kind of dietary supplement.
Price
A bottle with 90 capsules of Earth Designs Forskolin Extract is available from the manufacturer's online store for $24.99. Following the recommended dose, one bottle should last up to one and a half months.
Guarantee
The Earth Designs online store does not offer any kind of return policy or money back guarantee for its Forskolin Extract supplement or any of its other products. Before buying this product, make sure to check the retailer's return policy in case you change your mind.
Conclusion – Earths Design Forskolin Extract Review
Earth Designs Forskolin Extract is decently priced since each bottle contains 90 capsules compared to the 60 capsules normally offered by other manufacturers. If one is to believe that its 250mg capsule is standardized to 20% of Forskolin, then it also meets the clinically proven standards required to decrease body fat which other high quality weight loss supplements also use.
However, the manufacturer does not offer a money back guarantee for its product. Other Forskolin supplements that come with a money back guarantee are definitely better choices if you're serious about losing weight. A money back guarantee that's offered directly by the manufacturer offers real assurance that the product actually works and you won't end up wasting money on supplements that simply don't work.
Top investigative research brought to you by the experts at Customer Review.