Essential Elements Forskolin Review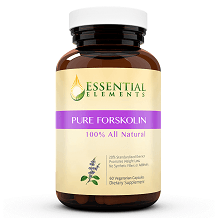 The following review looks at Essential Elements 100% All Natural Pure Forskolin. Forskolin, extracted from the Coleus Forskohlii plant has become popular as a weight loss supplement and Essential Elements has jumped into the fray. According to the manufacturer, its Forskolin product helps reduce belly fat and other stored body fat while restraining the production of fat cells. It also says it uses a pure type of Forskolin that supports lowering of blood pressure and boosting metabolism. Is this product the right one for your weight loss needs? Read on to get the full story and our recommendation.
Ingredients
Quick dissolving vegetarian capsules
Forskolin is said to increase testosterone levels. Such an increase can be part of a process that releases fat from fat cells and promotes muscle development. There is a clinical study to support these claims but another indicates Forskolin may not have such effects. The capsules are vegetarian with no synthetic binders, fillers, artificial colors or unnatural ingredients.
Dosage
For best results, take one capsule at least thirty minutes before your first and the last meal of the day. Eating healthy and drinking a lot of water is also important and it is recommended that you eat, as much as possible, unprocessed foods. Physical activity at least thirty minutes every day will help fuel the weight loss process. From the research we conducted, it seems that the dose is similar to the dosage of similar products in the market.
Possible Side Effects
Essential Elements recommend that you consult with a physician before taking any new supplement if you have any pre-existing medical condition. However, the manufacturer has not specified any medical condition that would be affected by Essential Elements 100% All Natural Pure Forskolin, nor are any side effects noted.
Price
Essential Elements 100% All Natural Pure Forskolin is available from the manufacturer's website in one of three packages. The first is a single bottle (a one-month supply) which costs $44.95. You can buy a 90-day supply for $119.95; or you can purchase a 180-day supply for $224.950. The multi-month packages come with free shipping.
Guarantee
Essential Elements offers an attractive 365-day money-back guarantee and will accept both opened and unopened bottles for refund. This enables new customers to try it risk-free.
Conclusion of Our Essential Elements 100% All Natural Pure Forskolin Review
Essential Elements 100% All Natural Pure Forskolin covers a lot of the bases when it comes to a Forskolin-based weight loss supplement. It's dosage level is satisfactory, it does not contain any synthetic binders, fillers, artificial colors or any unnatural ingredients and it comes with a stellar money-back guarantee. However, this supplement is on the costly side compared to similar products. Another drawback is that the manufacturer it may take up to 6 weeks for some people to see results. If you can afford this product it may be a good choice but if it's too rich for you we would recommend looking at more competitively priced options.
Top investigative research brought to you by the experts at Customer Review.