Genetic Solutions Forskolin-50 Review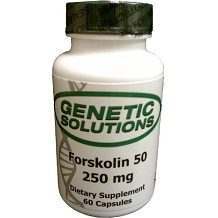 Dig in here for our review of Genetic Solutions' Forskolin-50 and learn all the details so you'll have an easier time making a purchasing decision. Forskolin-50 is a supplement intended to regulate hormones, dilate blood vessels and support the production of certain neurotransmitters. This product is also claimed to have a significant effect on lean body mass, bone density and the metabolism of lipids, which will lead to fat loss. The manufacturer also claims that it helps reduce blood pressure and aid those suffering from glaucoma.
Ingredients
Coleus Forskohlii Extract (Root) (Standardized to 20% yielding 50mg active forskolin) – 250mg
Vegetable Cellulose (Veggie Cap)
Rice Flour
The product's website does not point to specific information on what these ingredients do. But through our own research we learned that the product's main ingredient, Coleus Forskohlii, comes from a plant native to Asia. According to some sources of research, this compound can help reduce fat deposition in the body by altering and controlling certain chemicals. It has also been linked to cholesterol reduction and lipid oxidation. However, the studies are limited and further investigation is warranted to prove its effectiveness.
Dosage
According to the product's label, an individual should take one capsule, one to two times per day on an empty stomach or as recommended by your healthcare practitioner.
Possible Side Effects
The product is not intended to be used if you have or have a family history of liver, kidney, prostate or endocrine conditions. It is also best to consult your physician If you are taking any medications or have a medical condition and/or before starting any exercise program when considering taking this product. Other than these warnings, the manufacturer does not note any side effects.
Price
At the time of our review you could buy a 90-tablet bottle (a 1.5 to 3-month supply) from the manufacturer's website for $59.99, while at Amazon was $49.99. The website also seems to accept coupons for this product but as to where to get them, we don't know. They also a offer what seems to be a free bottle trial, but the details on how to acquire this promotion as well as other discounts and promos is not clear as you need to contact the manufacturer by submitting your email address via the product's website.
Guarantee
The product's website didn't show any forms of guarantee or a return/refund policy.
Conclusion of Our Forskolin-50 Review
Forskolin-50 claims to offer many health benefits aside from fat loss . It also seems to be made of natural ingredients. Still, the product has a relatively few reviews on Amazon (only 13), so it seems that not so many people have tried the product. Moreover, the product does not come with any apparent money-back guarantee.
Top investigative research brought to you by the experts at Customer Review.