Project Lip Matte Lip Plumping Primer Review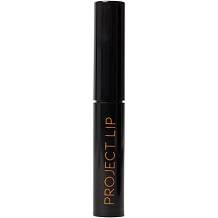 If you have thin lips, you may have considered investing in a lip plumper. In this review, we will take a look at Project Lip Matte Lip Plumping Primer. A product that has been positioned as a unisex lip volumizing option that can plump, prime and hydrate your lips all at the same time. Claiming that its unique formulation contains natural components that enhances the fullness of the lips, we decided to examine this product's potential.
Ingredients
Capryloyl Glycerin/Sebacic Acid Copolymer
Heptyl Undecylenate
Hydrogenated Stearyl Castor Oil Esters
Olus oil
Euphorbia Cerifera (Candelilla) Wax
Tetradecyloctadecyl Stearate
Potassium Cetyl Phosphate
Cera Alba
With an extensive list of active and inactive ingredients, this product is made of oils, waxes and other various compounds. Capryloyl Glycerin/Sebacic Acid Copolymer is a synthetic derivative of coconut, that acts as a filler or polymer. Heptyl Undecylenate is a chemical compound that is commonly used as a softening agent. While Hydrogenated Stearyl Castor Oil Esters is an emulsifier and stabilizer that helps to condition the skin. Euphorbia Cerifera (Candelilla) wax, is produced from a plant that hails from Mexico – which is said to help thicken the hair by providing texture. Cetyl Alcohol is a fatty alcohol that does not dry out the skin and is, therefore, a popular alternative to other forms of alcohol used in cosmetics. Tetradecyloctadecyl Stearate and Potassium Cetyl Phosphate are both emulsifiers. While Cera Alba, or beeswax, is a wonderful moisturizer that is often part of cosmetics as a carrier wax.
While we liked that this product largely consisted of natural ingredients, we could not verify how many components were clinically proven.
Instructions
The instructions we found for this lip plumper was limited. It suggested that you should apply the product all over your lips, press together and wait for a minute before feeling a tingling sensation. It is not clear how often or how much you should use.
Price
The manufacturer is currently selling their Matte Lip Plumping Primer at a price of $17. There were, unfortunately, no special offers or bulk discounts available.
Guarantee
In the event that you are unhappy with the product you bought, the manufacturer does offer a returns policy. You can send your opened or unused items back within 14 days of purchase. After which your refund will be processed within 10 working days.
Conclusion of Our Project Lip Matte Lip Plumping Primer Review
To end our review of Project Lip Matte Lip Plumping Primer, we appreciated certain aspects of this product more than others. While there were no customer reviews of this product and its effectiveness, we liked how some of its ingredients had beneficial qualities. And that the manufacturer offered their clientele a returns policy, regardless of product condition. At the same time, we are unsure about how potent this lip plumper actually is. This is due to the lack of clinically proven ingredients and limited compounds that would actually volumize the lips.
Top investigative research brought to you by the experts at Customer Review.