Vivant Skin Care Maxilip Lip Plumper Review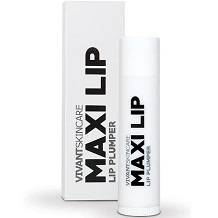 This review is on the product Maxilip Lip Plumper manufactured by Vivant Skin Care. The claim is that this product can plump up lips better than fillers, offering semi-permanent, collagen-boosting lip treatment. Ingredients can stimulate collagen and elastin production, which in turn will create much fuller, softer, smoother, and better defined lips. In addition, it is claimed that this product is suitable for all skin types. Continue reading this review. Learn all the facts about this lip-enhancing product. Learn the facts about the ingredients, the price of this product, the instructions of how to use this product and the guarantee of this product.
Ingredients
Oligopeptides
Perfluorodecalin
Benzyl nicotinate
Petrolatum
Oligopeptides are amino acids which stimulate the natural creation of collagen, hyaluronic acid and elastin, to combat wrinkles, fine lines, and thinning skin. Perfluorodecalin, in turn, raises oxygen levels in the skin and encourages wound healing. Benzyl nicotinate enhances blood flow and oxygenation, acting as a skin-conditioning agent. Petrolatum, a semi-solid emollient, protects the skin by preventing skin's natural moisture from evaporating, allowing germs to proliferate. The company fails to indicate the concentrations of these ingredients. This is a concern as an effective product will comprise at least 10% active ingredients.
Instructions
User instructions are not given on their website. Potential users should be informed before making a decision based on what suits their lifestyles.
Price
A 0.16-ounce bottle of this product is available online at $30.00. No discounts or any bundle deals are afforded consumers.
Guarantee
The manufacturer offers a 60-day money-back guarantee on this product. However, the product should be unused, and returned in its original packaging. The consumer should gain approval to return the product from a customer service representative, and should enclose a return authorization number.
Conclusion of Our Maxilip Lip Plumper Review
The lip-enhancing product Maxilip Lip Plumper does appear good for making lips fuller and more defined. There is also a guarantee that protects the user if the product is returned within 60 days of purchase, with further instructions followed. However, the consumer is not allowed to test the product before returning it. Should a consumer use the product but find it does not deliver, money will be lost. The ingredients seem promising, albeit that no information is offered on quantities of the active ingredients. Either way, the company offers no discounts or package deals that would lead to savings for end-users, rewarding them for their ongoing loyalty. User instructions are not clearly stated on the company's website. The consumer therefore does not know whether the product will work for them, or how easy it is to use. Plus, it should be mentioned that there are so abundant other akin products on the goods which unwanted aspects are less than the supportive aspects. More so that are jam-packed with patented in addition clinically proven ingredients that are documented to work, that have firm guarantees, a plentiful amount of consumer reviews, very outstanding bundle deals that save the shopper money in addition reward them for their continuing loyalty additionally very convenient websites – which contrast from this unambiguous skincare merchandise.
Top investigative research brought to you by the experts at Customer Review.