Milani Keep It Full Nourishing Lip Plumper Review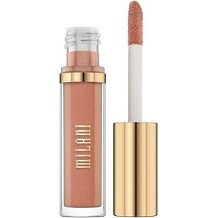 Today we review Keep It Full Nourishing Lip Plumper, which is available in 9 shades. Milani, the cosmetic house, describes it as being lightweight and non-greasy. The manufacturer adds that it seals in moisture, creating a smooth, plump lip appearance. The 'maximizing' applicator is designed to give you a sheer finish which is silky both in feel and appearance. When it comes to lip plumpers not all are equal. Precise and targeted ingredients need to be present if you are to have a long-lasting plump that is as full and hydrated as possible. These ingredients have been well researched in recent years, and the subject of many clinical studies. We will study the formula against these ingredients as well as the general criteria for a solid lip volumizer.
Ingredients
Vitamin E
Lactic Acid
Synthetic Beeswax
Hyaluronic acid
Hyaluronic acid has been confirmed as a superior moisture provider that can offer many times the hydration of ordinary compounds. You need a moisture barrier to seal this in, and this has been provided in the form of synthetic beeswax. This brings us to our first point in that the manufacturer makes no claims of using all-natural products, so there are quite a few synthetic elements in the line up which may not be good for your skin long term. Vitamin E is another clinically proven ingredient. It provides antioxidant support to fight the signs of aging and produce collagen, but this is best done in combination with wheat extract, amino acids, Vitamin C and resveratrol, all of which appear to be missing from the formula mix. The castor oil provides nourishment and would help the ingredients penetrate deeper than they ordinarily would. Lactic acid is a moisturizing agent and anti-peel agent. It is preferable though as clinically proven to use alpha hydroxy acids to achieve this instead, which haven't been used. Other key necessary ingredients missing are Willow Herb Flower and Pink Purslane.
Instructions
It is best to exfoliate your lips first before applying the lip plumper. Start at the Cupid's bow and glide the applicator across your lips in a crisscross way, then along the outer corners, and then on your bottom lip. The one drawback here is that because the plumper comes in various shades, it is assumed to be your 'lipstick' as well, leaving little room for lipstick application afterward.
Price
You can buy the plumper from the online product website at $9 each. There are no discounts.
Guarantee
The returns process is clear and detailed. You have 30 days in which to return the product at no cost to you. It does appear that this returns policy applies to both damaged and partially used goods with which you are not satisfied. If you have received a damaged item from a physical store, you need to abide by that store's return policy though.
Conclusion of our Keep It Full Nourishing Lip Plumper Review
Not many cosmetic houses foot the shipping bill if you have a return, so it is admirable that Milani does so (although it should be mentioned that the most confident houses are offering at least 60 days for you to start the returns process). Vitamin E and Hyaluronic acid must be present in a good lip volumizer, and indeed these are here. However, a host of other key and essential clinically proven ingredients are missing: wheat extracts, resveratrol, and Willow Herb Flower are among these.
If you care not only about results – which are bound not to be truly effective because of the high number of missing ingredients – but also care about how results are achieved, there are a few concerns here too. The manufacturer uses more synthetic materials than many other cosmetic makers, which can be detrimental to your appearance and health long term. There is also no GMP certification put forward, which raises concerns about the production process, and also which ingredients have ultimately been included, regardless of what the label says. While we would hope that the company is cruelty-free, it makes no such clear claim, which is also a red flag.
Top investigative research brought to you by the experts at Customer Review.