Sleep Science Melatonin Serene Night Review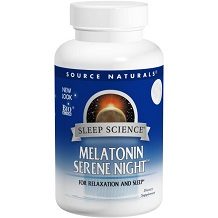 Getting enough sleep is vital to having a healthy balanced lifestyle, however, sometimes it may be difficult to get a good night's rest or any sleep at all. Resorting to natural supplements to help put restlessness to bed is a standard choice. Melatonin Serene Night by Sleep Science has claimed to do exactly that. Sleep Science has developed a formula of Melatonin designed to regulate a healthy sleep cycle by promoting relaxation and reducing tension and stress giving you a restful night of uninterrupted sleep.
Today we have conducted a full review of Melatonin Serene Night and these are our findings:
Ingredients
Calcium – 52mg
L-Theanine – 200mg
Melatonin – 3mg
Additional Ingredients
microcrystalline cellulose
dibasic calcium phosphate
stearic acid
modified cellulose gum
magnesium stearate
Silica
When studying the supplement facts, it does appear that Melatonin Serene Night has key ingredients that may promote relaxation and sleep. Be that as it may, one ingredient leaves us feeling concerned. L-theanine is a potent amino acid that may have some adverse side effects long-term. Research suggests that L-ornithine is a better alternative to relieving anxiety and promoting sleep with no long-term side effects.
Dosage
Melatonin Serene Night recommends taking 1 tablet before bed. While Melatonin is a powerful hormone used to aid sleep-related issues, the dosage seems insufficient and might affect the effectiveness of the product. According to research 6mg is the effective dosage needed to regulate sleep cycles. Taking the incorrect dosage of Melatonin may disrupt the sleep cycle even more and cause you to feel unrested and sluggish the next morning.
Possible Side Effects
L-theanine may cause some adverse long-term side effects such as dizziness, appetite loss, low blood pressure, diarrhea, and difficulty concentrating. Melatonin Serene Night should not be used with alcohol or if you are pregnant, nursing or under medical supervision for conditions such as autoimmune disease, diabetes, asthma, epilepsy, leukemia, depression or a lymphoproliferative disorder.
Price
Melatonin Serene Night is available in bottles of 60 and 120 tablets online. The 60 tablet bottle option retails for $9.25 and the 120 tablet option retails for $17.50. There are no discounts available when purchasing Melatonin Serene Night on the manufacturer's website.
Guarantee
Unfortunately, there is no guarantee offered by the manufacturer and consumers may lose out on some money if they find the product does not work for them. If the product has been purchased through a third party retailer, consumers would need to reach out to the retailers for a refund if one will be granted at all.
Conclusion of Our Melatonin Serene Night Review
In conclusion to our review and findings, Melatonin Serene Night does offer minor positive aspects when it comes to shopping around for supplements that deliver relief from restlessness and insomnia. One is that the natural formula does contain Melatonin. Be that as it may, the dosage recommended by the manufacturer does not seem high enough for the product to be effective and the results cannot be assured. While this dosage may be effective for a minority, without a risk-free money back guarantee from the suppliers this just leaves us questioning the product altogether. By trying to give Melatonin Serene Night the benefit of the doubt, we did some extensive research on consumer feedback on the product's effectiveness. We were unable to find consumer reviews on the manufacturer's website as well as on Amazon or third party sites, in fact, some sites have listed this product as discontinued. The lack of social proof is concerning and without the guarantee or sufficient dosage of Melatonin we are unable to recommend Melatonin Serene Night by Sleep Science as an effective supplement for supporting sleep.
Top investigative research brought to you by the experts at Customer Review.