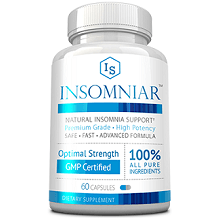 Getting a good night's sleep is important for our overall well-being and to keep us functioning during the day. Not getting enough sleep or not getting good quality sleep can affect our mood, focus, and memory. There are many products available today that aim to help remedy this problem. This review will take a look at Insomniar, a doctor-formulated supplement to help cure insomnia. This supplement is designed to reduce stress and anxiety, helping you to fall asleep easily at bedtime. It also helps you to stay asleep for longer, allowing you to wake up feeling refreshed and rested. Insomniar is designed to attack the root cause of insomnia as well as deal with the symptoms. This product is also manufactured in a facility that is FDA registered and cGMP certified to ensure quality.
Ingredients
Insomniar contains 11 ingredients that were specifically handpicked because of their properties for helping to relax the body and mind and ensuring a good night's sleep. The formula is made up of the following:
L-Ornithine – 400mg
Valerian – 300mg
Chamomile – 200mg
Passionflower – 200mg
Lemon Balm – 200mg
Hops – 100mg
Taurine – 43mg
Magnolia – 37mg
Jujube Extract – 32mg
Reishi Mushroom – 20mg
Melatonin – 6mg
L-Ornithine acts as a stress-reliever helping you to fall asleep. It also improves the quality of sleep, helping you to sleep for longer. Valerian acts as a sedative, calming the mind and body. Chamomile, passionflower, lemon balm, taurine and magnolia bark all have properties that help reduce stress and anxiety. This allows your body to relax at bedtime which helps you fall asleep faster. Melatonin is a naturally-occurring hormone that regulates our sleep-wake cycles. This will promote a restful night's sleep.
This product does not contain any added ingredients, preservatives, binders or fillers.
Dosage
It is recommended to take 2-4 capsules one hour before going to sleep.
Possible Side Effects
As this product is constantly tested, it is safe to use. There are no known side effects with taking this product. Pregnant and nursing women, as well as those with any medical conditions, are cautioned to speak to their doctors before using this product.
Price
Insomniar is easily available to buy online, both from the manufacturer and from Amazon. The manufacturer's website is protected by Norton so buying is completely safe. You can buy one bottle containing 60 capsules for $49.95, which is marked down from $59.95. The manufacturer also offers different purchasing options. You can buy two bottles for a total cost of $69.90, which saves you $50. You can also buy a package consisting of four bottles and a package consisting of six bottles for $111.80 and $139.80 respectively. The six-bottle package brings the price of each bottle down to $23.30.
Guarantee
On top of Insomniar being manufactured in a facility that is cGMP certified and FDA approved, it also comes with a 60-day money back guarantee. What's more is that this guarantee applies to both opened and closed bottles which really allows you to buy this product completely risk-free.
Conclusion of Our Insomniar Review
This product follows scientific research for effectiveness. It is formulated according to what clinical studies found to be effective. It contains the necessary ingredients, at the correct dosage, to ensure you have a good night's sleep. The money-back guarantee is also a testament to the confidence the manufacturer has in this product. We think this is one product worth trying.
Top investigative research brought to you by the experts at Customer Review.