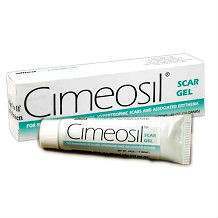 Cimeosil Scar Gel is one of the products in the market designed and deployed to help in the treatment of scars. This scar gel is, just like the many others in the market makes a host of claims in regard to what it contributes towards scar treatment and management. Below are some of them:
Management of hypertrophic and keloid scars;
Topical management of Scars secondary to trauma of the skin by burns, abrasions, or lacerations;
Easy applied gel;
May be covered by cosmetics;
It is air permeable yet repels water;and
It does not macerate skin;
In regard to its packaging and marketing, this product employs the traditional norms, ways and tools that we are all familiar with. This means that you can find this particular product packaged in the usual packages/bottles and you can access it through the traditional channels of distribution either by walking into that drug store or outlet near you or by ordering for it online.
Ingredients
The following ingredients are found in Cimeosil Scar Gel:
Cimeosil Scar Gel's active ingredient is polysiloxanes (polymerized siloxanes/silicone).
Dosage
To use this gel, ensure the you wash affected area and dry before thoroughly before applying a small amount of Cimeosil Scar Gel. Gently wipe away excess amount. Apply the product twice daily.
Side Effects
Below are the possible side effects that are associated with this gel:
Do not use in excess because this may cause stains on bedding or clothes.
Avoid getting the product in the eyes or mucus membranes.
Do not use this gel on infected areas or open wounds.
Product should be used under supervision of a licensed esthetician or surgeon.
Price
Cimeosil Scar Gel is available in a 14 g tube. Each tube costs $31.It passes for a pocket-friendly product though it does not have any special discounts from the manufacturers.
Guarantee
This product lacks a money- back guarantee and that means you too lack a fall-back to resort to in the event that it doesn't perform as per expectation.
Conclusion of Cimeosil Scar Gel Review
As we wind up, we can draw the following conclusions in regard to this product using the following basic product features:
Product safety-it passes the test of safety due to the absence of adverse side effects.
Efficacy-it does work but you will need to use it for many months.
Money-back guarantee-the product fails this test.
Long-term value for money-again on this matter, it fails the test because while you buy it for less, its protracted use dilutes the whole value of initial purchasing affordability.
Affordability-it is affordable at purchase level.
Natural ingredients -it fails the test because it does not contain natural ingredients.
Top investigative research brought to you by the experts at Customer Review.