Sodermix Non-Steroidal Cream Review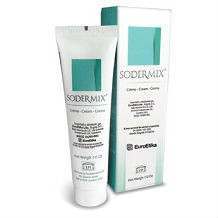 Sodermix Non-Steroidal Cream is one of the commonly available solutions in the market meant to help in natural scar treatment. This cream, just like its counterparts in the market makes its own host of claims in regard to its functions and contribution towards scar treatment. Below are some of the claims:
Immediate suppression of  pruritus frequently associated with keloid and hyperprophic scars;
Reduce, in a rapid manner ,the inflammation and consequent discoloration of the skin;
With time, it  flattens, softens and smoothens the scars;
A good treatment for new and existing scars; and
Steroid-free cream;
In regard to its packaging and marketing, this product employs the traditional norms, ways and tools that we are all familiar with. This means that you can find this particular product packaged in the usual packages/bottles and you can access it through the traditional channels of distribution either by walking into that drug store or outlet near you or by ordering for it online.
Ingredients
The active ingredient on Sodermix Non-Steroidal Cream is a natural Superoxide Dismutase (SOD), which is a vegetal active ingredient specially extracted from green tomatoes.
Dosage
Using Sodermix Cream is very simple. The Cream should be applied on clean and dry skin two times a day. But Sodermix Cream should not be applied to open wounds.
Side Effects
Sodermix Non-Steroidal Cream does not contain any steroids and it is also not known to have adverse side effects. There have been no side effects reported. However in some people redness, pain or irritation occurs. If this occurs, then discontinue usage and consult a physician immediately.
Price
Each 30 g tube of Sodermix Non-Steroidal Cream costs $35.18.It thus passes for an affordable product. However, matters to do with discounts are left to the discretion of resellers.
Guarantee
This product  does not have  a money- back guarantee and that means you too lack a fall-back to resort to in the event that it doesn't perform as per expectation.
Conclusion – Sodermix Non-Steroidal Cream Review
As we wind up, we can draw the following conclusions in regard to this product using the following basic product features:
Product safety-it passes the test of safety due to the absence of adverse side effects;
Money-back guarantee-the product fails this test.
Long-term value for money-again on this matter, it fails the test because while you buy it for less, its protracted use dilutes the whole value of initial purchasing affordability.
Affordability-it is affordable at purchase level.
Natural ingredients -it passes the test because it does contain natural ingredients.
Top investigative research brought to you by the experts at Customer Review.