Skinception – Dermefface FX7 Scar Reduction Therapy Review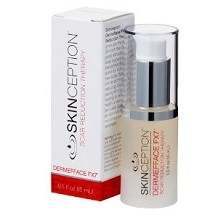 Skinception – Dermefface FX7 Scar Reduction Therapy is a scar reducing natural cream that is proven effective in as little as four weeks by fading scars naturally. The target audience of this product is women who want to rid themselves of scars that they feel will be with them forever.  These scars can cause women to feel unattractive or even ugly.  The main scar categories that are treated are:
burns
acne
chicken pox
surgical scars
hypertrophy
Ingredients
Skinception – Dermefface FX7 Scar Reduction Therapy lists nine natural ingredients with descriptions:
Niacinamide-  prevents hyperpigmentation.
Di-Panthenol- scar reducer
Symglucan- anti-aging component
Hydrollite 5- skin moisturizer
Allantoin– repairs damaged skin cells
Pro-Coll-One- aids in collagen synthesis in the skin
Pentavitin- aids in moisture management of the skin
Vitalyzers- helps to reduce scars
Fruit Extracts- skin health
Skinception – Dermefface FX7 Scar Reduction Therapy really does a good job in listing the ingredients and their purposes for consumers  This can really help a consumer determine if this is the scar treatment for them.
Dosage
Dermefface FX7 is applied on the skin. It is recommended to use this product twice a day for more visible results.  No other usage information is available.
Side Effects
There are no possible side effects listed for this product.
There are no long-term results that are listed listed for this product, however it does claim that results can be seen within four weeks.
Price
Dermefface FX7 is listed at the following price points:
1 Month Supply — $59.95 with bonus gifts. (The more cream bought means more free gifts)
3 Month Supply — $129.95 with bonus gifts
6 Month Supply — $199.95 with bonus gifts
Dermefface FX7 seems fairly priced, however the free gifts tend to be a red flag.  Why all the free gifts for just using this product?  It almost seems as if it is a sales ploy to encourage sales.   Products should stand or fail on their effectiveness and not on how many free gifts you get with your purchase amount.  This can really stand out to consumers and even deter them from purchasing a product.
Guarantee
Dermefface FX7 has a 24/7 customer service representative and provides a 90-day money back guarantee  that will refund the amount paid (minus shipping and handling) if returned during the return period.  This is indeed a very good guarantee that states confidence in the product and its effectiveness.
Conclusion – Skinception Dermefface FX7 Scar Reduction Therapy Review
While Dermefface FX7 is a good product, it lacks immensely because of the red flag with pricing.  The quantity of free gifts associated with the purchased amount of products seem to be trying to lure consumers away from the actual effectiveness of the product.  Does this product work as described or not?
Top investigative research brought to you by the experts at Customer Review.